Eating plan for constipation
EATING PLAN FOR CONSTIPATION
What food should I eat to avoid constipation?
This is a very typical menu for constipation:


Breakfast:
- A glass of skimmed milk or vegetable milk (oats milk, soy milk, etc.)
- Whole wheat bread toast with apple jelly
- 4 figs and 3 dried plums.
- Infusion of peach tree flowers or elder flowers.
Brunch: Lunch:
- An apple
Lunch:
- A varied vegetable dish
- A piece of baked pumpkin.
- 100 g of tofu.
- 100 g of strawberries with three tablespoons of yogurt and a spoonful of brown sugar.
- Infusion of peach tree flowers or elder flowers.
Snack:
A slice of whole bread spread with apple compote.
Glass of water or carrots juice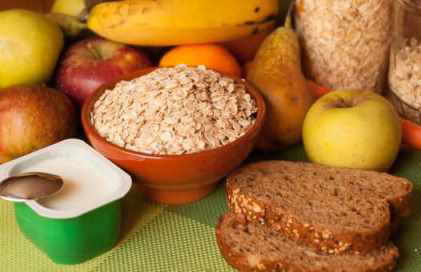 Oats with yogurt
Evening meal:
- Mixed salad of tomato, lettuce, onion and cucumber.
- Asparagus omelette.
- Yogurt with 1 spoon of oats flakes
- Infusion of chicory.
You should drink from two to 1.7 liters of water

More information about constipation natural treatment in the listing above.
Other interesting articles
This material is for informational purposes only. In case of doubt, consult the doctor.
"Botanical" is not responsible for damages caused by self-medication.