CAULIFLOWER WITH POTATOES AND ARTICHOKES
Ingredients for four people:
- 1 small cauliflower.
- 1 kilo of potatoes.
- 1 kilo of artichokes.
- 1 onion (medium).
- 6 garlic cloves.
- 6 spoonfuls of olive oil.
- Salt.
- ¼ of liter of water.
- Two leaves of laurel.
- 1 sprig of parsley.
- Half a teaspoon of paprika.
Preparation: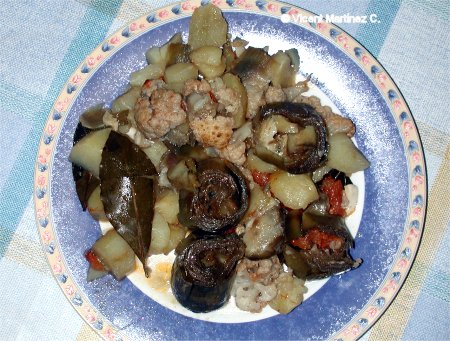 - Wash all the ingredients.
- Place a pan with oil on fire.
- Cut the garlic in thin slices.
- Peel the potatoes and artichokes. Only the tender hearts are suitable.
- Fry the garlic. Once golden, add the water.
- Add the artichokes cut in half.
- Salt and simmer 1 / 4 hour
- Cut the cauliflower into small twigs and the onion into slices. Add the onion and cauliflower to the potatoes and artichokes.
- Put the bay leaves and paprika.
- Boil for 15 minutes.
- In a mortar place a sprig of parsley and the two remaining garlic cloves. Chop well the two ingredients. Browse them, stirring a little and put out from the fire.
Way to serve it:
Serve hot as a starter.

More information on the artichokes in the listing above.
Other interesting articles
This material is for informational purposes only. In case of doubt, consult the doctor.
"Botanical" is not responsible for damages caused by self-medication.