How to eat purslane
Purslane salad with avocado
PROPERTIES OF PURSLANE SALAD
What are the benefits of purslane salad?
Salads such as that presented in this recipe, are rich in fiber, vitamin C and folic acid.
Raw vegetables components must be very present in our food because they are the source of many medicinal components:
Tomato has lycopene which gives us heart-healthy properties, and prevents cancer of the lung, stomach, breast, prostate and bladder.
Purslane is a source of beta carotene and also one of the richest vegetables in omega-3.
Avocado provides omega 9
In short, an ideal recipe in every balanced diet, obesity, hypertension, cholesterol, diabetes, etc.
RECIPE OF PURSLANE SALAD WITH AVOCADO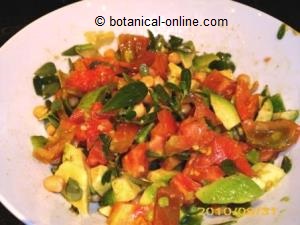 Purslane salad with avocado, tomato, corn and vinaigrette
Ingredients
- Purslane leaves or other wild grass (20 g approx.)
- 3 tomatoes
- Half avocado
- Half lemon
- Olive oil for seasoning
- A little bit of salt
Elaboration
- Wash purslane well. Purslane should not be pick up from urban places, or places where it may be contaminated by domestic or wild animals.
- Separate the leaves of purslane.
- Cut the tomatoes into quarters.
- Cut the avocado and sprinkle with lemon juice to better preserve its properties.
- Mix all ingredients and serve.
More information and recipes on avocado in the listing above.
Other interesting articles
This material is for informational purposes only. In case of doubt, consult the doctor.
"Botanical" is not responsible for damages caused by self-medication.