MACADAMIA NUTS RECIPES
(Macadamia integrifolia = Macadamia ternifolia)
CARAMELIZED MACADAMIA NUTS RECIPE
Ingredients
- 100g. raw macadamia nuts without salt
- 25g. brown sugar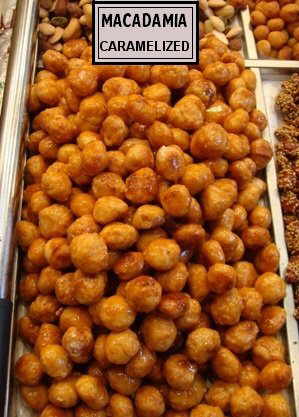 Photo of caramelized macadamia nuts, as they can be found in the market.
Elaboration:
- In a saucepan, bring all ingredients to a simmer.
- Stir constantly so that all nuts to be covered by sugar.
Optionally, add water at the beginning of the preparation and wait until all the syrup is reduced.
Nutritional comment.
This is a recipe rich in refined sugars that should be consumed occasionally and in moderation. Among its benefits, we can cite the richness in omega 9 of macadamia nuts

More recipes and information about macadamia nuts in the listing above.
Other interesting articles
This material is for informational purposes only. In case of doubt, consult the doctor.
"Botanical" is not responsible for damages caused by self-medication.