Raw vegan cake properties
Chocolate vegan recipe
EASY RECIPE OF RAW VEGAN CAKE
Raw vegan cake with cashews (cashew nuts or merey)
This cashew nut cake (also called merey or cashew nuts) is a recipe typical of raw food, without dairy products, eggs, added sugar or any type of flour.
It is a very simple recipe. It consists of preparing the base of the pie or cracker with nuts, and fill with a sweet cream prepared with cashew nuts.
The whole recipe does not use refined sugar, but it is sweetened with dried fruit, in this case with medjool dates, which are the most fleshy and sweet.
The recipe admits many variations: for example, you can prepare the base with other nuts and spices, or fill with a homemade chocolate cream of avocado, raisins and cacao; With cream of carob, etc.
Being a recipe very rich in nuts, it combines very well with fresh fruits, which gives it a refreshing touch.
Recipe properties: What nutrients does it bring?
It is a very energetic, nutritious and satiating recipe. It provides lots of energy, like other sweets and cakes, although unlike other desserts made with refined ingredients, it has an interesting nutritional value.
Among the nutrients it brings out are minerals such as calcium, potassium, magnesium, phosphorus,, as well as B vitamins, folic acid and vitamin C.
It is very easy to prepare if the ingredients are available, so it can be done both on special occasions (birthday cakes or celebrations) and at the snack or diet of children, young people, sportsmen, etc.
It provides energy and is a much more nutritious and healthy alternative to industrial sweets. Free of trans fats.
A preparation suitable for vegetarians, vegans, raw vegans, intolerant to milk.
Ingredients for a raw vegan cake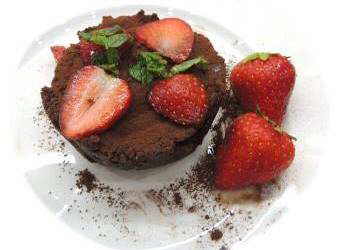 Photo of the recipe, with strawberries and fresh mint
Ingredients for the dough:
Ingredients for cashew nuts filling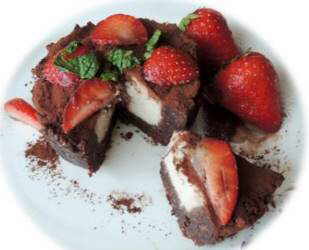 Picture where you can appreciate the filling of cashews of this vegan cake
Decoration: Strawberries, raspberries, orange, blueberries or other forest fruits, mint leaves, etc.
Preparation of the raw vegan cake step by step
Preparation of the cake filling: cream of cashew nuts
RAW VEGAN CAKE RECIPE STEP BY STEP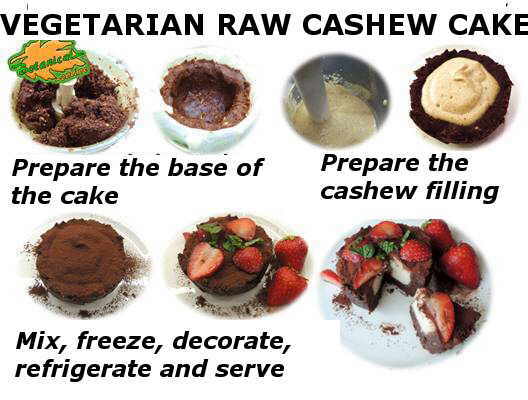 Easy recipe of cashew nuts (cashew nuts or merey) step by step. It supports many variations. It is a very energetic recipe that combines well with fresh fruit decoration

More recipes and information on cocoa and chocolate
Other interesting articles
This material is for informational purposes only. In case of doubt, consult the doctor.
"Botanical" is not responsible for damages caused by self-medication.