Common linden properties
(Tilia x Europaea)
MEDICINAL PROPERTIES OF LINDEN FLOWERS
Internal use preparations with linden flowers
Dried linden flowers are used because of their medicinal properties.
Linden flowers are suitable for handling problems of neurosis
Infusions of linden flowers are one of the best remedies for the problems of nervous origin, as these are manifested as certain bodily or psychologically reactions without no apparent damage to the structure of nerve fibers, that is to say what we consider neurotic reactions.
The components which determine these properties are mainly alpha-pinene, limonene, nerol, eugenol and caffeic acid.
At the same time, there is the antispasmodic capacity of linden flowers to relax the muscles of the internal organs. (The above components along with quercetin, quercitrin and terpineol are what give linden flowers this property).
Common linden curative infusions and decoctions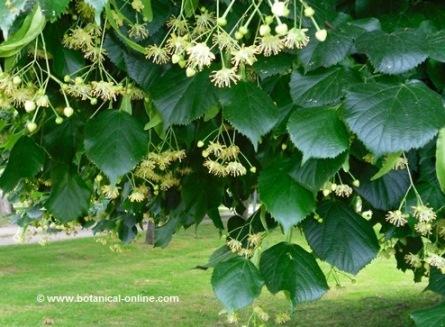 Photography of linden, with foliage and flowers.
The sedative and antispasmodic capacity of linden flowers can be utilized in the treatment of the following abnormalities:
Linden is a suitable plant to increase sweating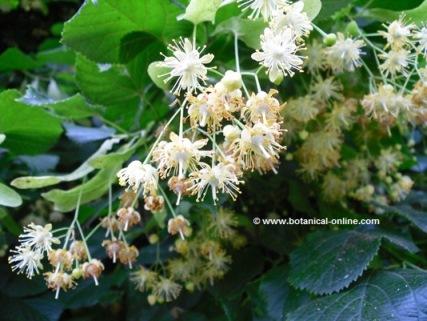 Photography linden, linden flowers on the tree.
Linden flowers are highly recognized for its diaphoretic properties, that is to say, they are able to increase the body sweat. This action is due to the ability of this plant to act on the nervous system and not exactly on the sweat glands.
P-coumaric acid and quercetin are thought to be responsible for this activity. However, some researchers deny this claim and argue that increased sweating is simply due to the contribution to the body heat of linden teas because of hot water.
Either it is one reason or another, the truth is that it has been found that preparations of this plant can help increase perspiration in situations in which it is very convenient to use this resource for its therapeutic values. In cases such as:
Analgesic properties of common linden
Common linden is a very effective anti-inflammatory remedy with almost 20 principles that provide this property. Caffeic acid and chlorogenic acid in addition to eugenol along with hesperidin and flavonoid quercetin are responsible for the analgesic properties, that's to say, able to decrease pain. Therefore an effective remedy against many painful events such as:
Common linden is suitable to defend the body against infection
Linden has antiviral and antibacterial properties capable of inhibiting the growth of viruses and bacteria, so it is very useful to take it during periods in which the body is forced to fight infections. In this sense we can consider this plant as a good natural antibiotic. It can be used infectious diseases such as gonorrhea.
Common linden, a remedy for urinary tract stones and inflammation of the kidneys
The caffeic and chlorogenic acid, flavonoids quercetin and quercitrin and its high fiber content provide this tree flowers diuretic properties that can be exploited in the treatment of certain anomalies of the excretory system. Its use is appropriate for:
Linden flowers are digestive and carminative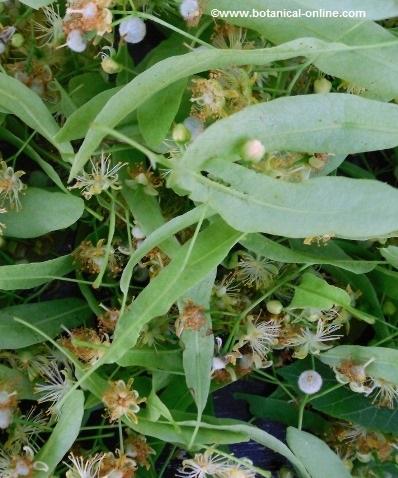 Photo of collected linden tree flowers
Linden flowers are an effective remedy for indigestion and heartburn. Applied as a tea, they can help us digest food better and reduce gastric reflux into the esophagus. (Infusion of half a teaspoon of dried flowers per cup of water. Take a couple of cups a day after meals)
EXTERNAL USE PREPARATIONS WITH LINDEN FLOWERS
In external use, linden flowers have the following main properties:
MEDICINAL PROPERTIES OF THE BARK OF COMMON LINDEN
Immediately after the outer bark of common linden, which is a gray, there is another whitish bark, known as sapwood. The main properties of common linden sapwood are:
Internal use preparations win common linden sapwood
Toxicity and contraindications of common linden
Common linden has not major contraindications, and none of its components is toxic. It is one of the pediatric recommended solutions for nervous, hyperactive or sleeplessness children without side effects.
* More information on side effects, contraindications and hazards of common lime in the listing above.
Collection and conservation of common linden
Flowers with bracts must be collected during flowering time, that usually occurs during the months of June to August. The collected material should be dried in the shade and store in airtight containers clean and well protected from the sun and moisture.

More information about common linden in the listing above.
Other interesting articles
This material is for informational purposes only. In case of doubt, consult the doctor.
"Botanical" is not responsible for damages caused by self-medication.