Herbal remedies for Crohn's disease
Medicinal plants for Crohn's disease
PHYTOTHERAPY. HERBAL REMEDIES FOR CROHN'S DISEASE
How to prevent or cure Crohn's disease with natural remedies
Phytotherapy in the treatment of Crohn's disease should be made by mutual agreement between the patient and the physician whom you must communicate a willingness to take some of these therapies.
Only under the surveillance and consent of the doctor, a patient with Crohn's disease should take this treatment.
Sometimes the application of these treatments can interact with prescription drugs or react individually with the delicate bowel of the patient and be counterproductive.
Phytotherapy in the treatment of Crohn's disease involves the use of a number of plants whose function is as follows:
Plants to help relax inflammatory bowel irritation and swelling.

Plants with healing properties that help restore the intestinal mucosa.

Astringent plants that control excess of loose stools.
Medicinal plant preparations to treat Crohn's disease
Among all the plants we could mention the following: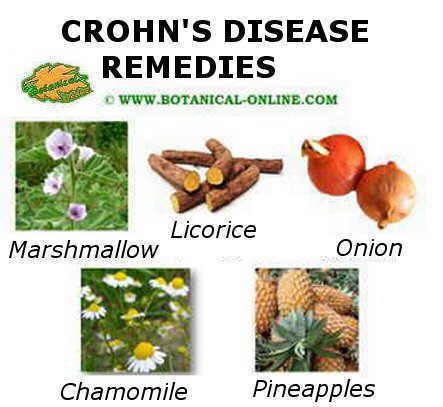 Some remedies used to treat Crohn's disease
VITAMINS AND MINERALS FOR CROHN'S DISEASE
Supplements for the treatment of Crohn's disease
The main function of vitamins, minerals and supplements in the natural treatment of Crohn's disease is to correct the nutritional deficiency that take place in patients who, with the bowel problems, have many problems to suitably absorb the the necessary principles of food. Among the major recommended supplements, we would have the following: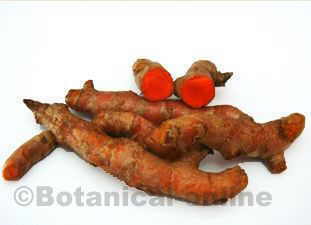 Turmeric
In addition to these food supplements, the diet is very important for preventing and reducing symptoms of this disease. A proper diet can be an alternative to using drugs when suffering attacks.

More information on the diet of Crohn's disease in the listing above.
Other interesting articles
This material is for informational purposes only. In case of doubt, consult the doctor.
"Botanical" is not responsible for damages caused by self-medication.