Properties of cypress essential oil
(Cupressus sempervirens)
CHARACTERISTICS OF CYPRESS ESSENTIAL OIL
Plant Profile
The Latin name Sempervirens means always alive.
The trees of this species live many years. They are often near churches to indicate long life.
What is cypress essential oil?
It is the oil distilled from the twigs and leaves of cypress. It is a highly aromatic product.
Fragrance profile: Smells earth, moss and sweet notes.
Properties: Antiseptic, diuretic, antispasmodic, antirheumatic.
MEDICINAL PROPERTIES OF CYPRESS OIL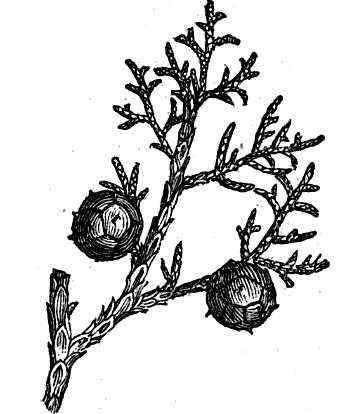 drawing of a branch with fruits and scaly leaves
Main uses of cypress oil
Cypress essential oil is mainly used for the following purposes:
With the essential oil of cypress lot of medicines are made.
Cypres oil is a great help for the respiratory system
Preparations of cypress help reduce respiratory spasms while exercising an astringent and anti-infective function, so that it helps fight microorganisms and decrease mucus content in the respiratory channels.

More information on cypress in the listing above.
Other interesting articles
This material is for informational purposes only. In case of doubt, consult the doctor.
"Botanical" is not responsible for damages caused by self-medication.