Natural treatment of bladder inflammation
Home remedies for cystitis
Preparations with plants for the bladder
The main function of the phytotherapy in the problem of the infections of the bladder consists of using those plants whose purpose will result in:
Internal use:
Natural antibiotics for cystitis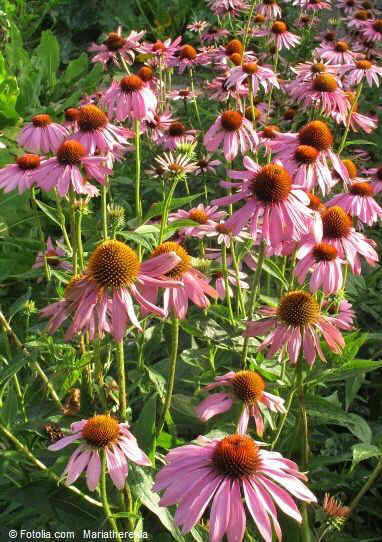 Echinacea flowers
Useful berries for cystitis
Some berries are very appropiate to treat cystitis because they contain a lot of tannins and anthocyanins that posses antibiotic properties. Among all of them, we can point out the following:
This is why the treatments carried out by this plant are often combined with the ingestion of bicarbonate. By doing this, we can neutralize the acidity of urine, making it more alkaline. This treatment is appropriate for urinary tract diseases such as inflammation of the urethra (urethritis) or inflammation of the bladder (cystitis), urinary tract irritation. These herbal remedies are also beneficial for the urgent need of urinating arising from these type of diseases.

The positive effects should be attributed to arbutin that becomes hydroquinone when in contact with the intestinal flora, in addition we have to consider its high tannin content (about 15 to 20%) which acts on the secretions of pus that generate these diseases. Take one of the following preparations:
Medicinal plants to treat cystitis
(Make an infusion of two teaspoons of dried leaves combining equal parts marshmallow, birch and horsetail. Drink two daily cups.

Two birches in the country

More information on the cystitis in the listing superior.
Other interesting articles
This material is for informational purposes only. In case of doubt, consult the doctor.
"Botanical" is not responsible for damages caused by self-medication.