TOXICITY OF FENUGREEK
(Trigonella foenum-graecum)
CAN FENUGREEK BECOME A POISONOUS PLANT?
Is fenugreek toxic?
The seeds of fenugreek (Trigonella foenum-graecum) are not toxic if taken as a food in the ordinary amounts, according to scientific studies.
What are the main medicinal components of fenugreek seeds?
Medicinal components of fenugreek seeds
- High in soluble fiber, like mucilage and galactomannans.
- Amino 4-hydroxyisoleucine
- Phytosterols: beta-sitosterol.
- Trigonelline (0.2-0.3%) with hypoglycemic action. It can interfere with diabetes medication.
- Coumarins. May interfere with anticoagulant drugs.
- Steroid saponins: mainly diosgenin
- Flavonoid glycosides: vitexin, isovitexin, orientin, homoorientin, vicenin-1, vicenin-2.
- Alkaloids: carpain and gentianin.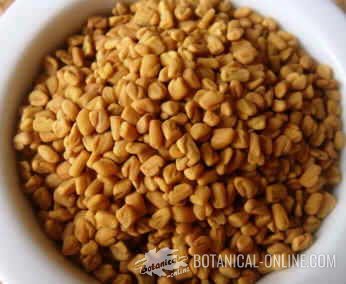 Grains of fenugreek
The FDA (Food and Drugs Administration in the U.S.) sees the plant as safe and well stated in the GRAS list (Generally Recognized as Safe). However, some sensitive individuals may experience some side effects and can interfere with some medications.

More information on fenugreek in the listing above.
Other interesting articles
This material is for informational purposes only. In case of doubt, consult the doctor.
"Botanical" is not responsible for damages caused by self-medication.