Classes of fiber
TYPES OF DIETETIC FIBER
What types of fiber are there?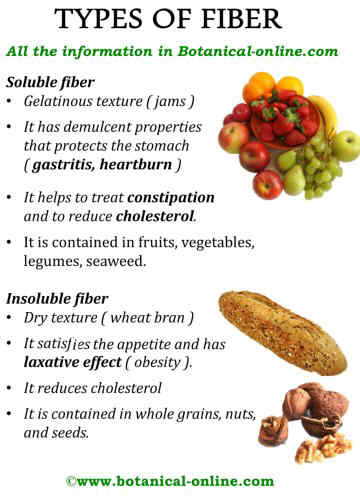 Types of fibers and main benefits of each one of them
There are two types of dietetic fiber:
Characteristics of insoluble fiber
Insoluble fiber is one that does not dissolve in water but has the capacity to absorb it. This consists of:
Characteristics of soluble fiber
Soluble fiber is the one that dissolves in water. Upon dissolution forms a kind of gel or gel in the intestine. It consists of:
Mucilages have different functions, from the protection of wounds, the germination of the seed. (In this latter case, once in contact with water, the seed increases its volume and maintain a layer of moisture around it that facilitates its germination.)

Some root mucilages use mucilages to make the introduction of them into the ground easier. Comfrey (Symphytum officinale) is a clear example of how a component can produce this result. Sometimes these secretions are a weapon to catch prey, such as it happens with the mucilage secreted by the carnivorous plants.
(More information about mucilages)

More information on fiber
Other interesting articles
This material is for informational purposes only. In case of doubt, consult the doctor.
"Botanical" is not responsible for damages caused by self-medication.