Goldenrod contraindications
(Solidago virgaurea L.)
CHARACTERISTICS OF GOLDENROD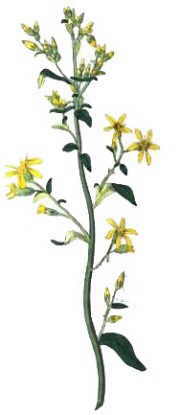 Botanical illustration of golden rod
Goldenrod (Solidago virgaurea L.) is a medicinal plant with diuretic, astringent, antiseptic, anti-inflammatory and vulnerary properties. Its principles are tannins, saponins and flavonoids.
Traditionally it has been used for natural treatment of urinary tract infections, candidiasis, acute nephritis, infant diarrhea, arthritis, and in the symptomatic treatment of enlarged prostate.
What are the contraindications of goldenrod?
- Allergy: People allergic to daisies or plants of the Compositae or Asteraceae family should not consume any preparations with this plant. There have been reports of hypersensitivity and allergic reactions such as hives, asthma or rhinitis by exposure to plants of the family of the goldenrod, like daisies, calendula, chamomile, chrysanthemums, etc.
- Because of its diuretic properties, it should not be used in cases of heart failure, kidney failure or disease affecting the ability to urinate and produce edema (nephritis, nephrotic syndrome, etc.). In case of serious diseases, remedies should only be used under medical prescription.
- Medicins: The diuretic properties of the plant may increase the clearance of certain substances and medicins. If taking medication, consult your doctor first before taking herbs.
- Anemia: Although it may be appropriate to use it once in a while, you should consider that high tannin teas like green tea or goldenrod, should not be taken often in case of anemia, because they inhibit iron absorption.
Goldenrod in pregnancy and lactation
For precautionary principle, goldenrod should not be used in pregnant or breast feeding women because its safe use is unknown in these cases. It is best to consult with a doctor and do not administer remedies without his/her consent.

More information about goldenrod in the listing above.
Other interesting articles
This material is for informational purposes only. In case of doubt, consult the doctor.
"Botanical" is not responsible for damages caused by self-medication.