Medicinal plant remedies for gonorrhea
Herbal treatment for gonorrhea or blennorrhagia
Natural treatment of the gonorrhea
HOW TO CURE GONORRHEA WITH NATURAL MEDICINE
The natural treatment of gonorrhea or blennorhea involves using a series of natural resources that are intended to serve as official support for the treatments.
Phytotherapy. medicinal plants for the treatment of gonorrhea
The primary role of phytotherapy in the treatment of gonorrhea involves using a number of plants which primary objective will be:
Plants with bactericidal properties that they complement to official antibiotics.

Plants that stimulate the immune system to create a body more resistant to infection. Its use can help reduce the risk of sexually transmitted diseases
Preparations with medicinal herbs to treat gonorrhea
Among all the plants we can mention the following: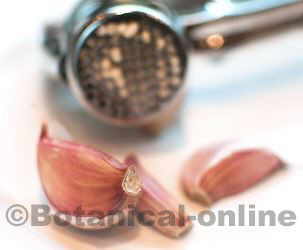 Garlic is very useful for the natural treatment of gonorrhea
Other natural resources
Vitamins for gonorrhea:
Vitamin C: The levels of this vitamin can be reduced with the use of antibiotics. Vitamin C supplements can help replenish this possible deficit. 6 grams is recommended. divided into three doses daily.

Vitamin A: In the form of supplements, a dose of 150,000 IU of beta carotene daily is usually applied. Vitamin A strengthens the immune system, making it very suitable to prevent the occurrence of many diseases vitamin deficiency causes general fatigue and a greater ease to get infections.

Zinc: Necessary for the perfect healthy immune system and absorption of vitamin A.
Diet for gonorrhea
A diet for gonorrhea involves using food that help strengthen the immune system.

More information on diet for gonorrhea.
Other interesting articles
This material is for informational purposes only. In case of doubt, consult the doctor.
"Botanical" is not responsible for damages caused by self-medication.