Green peas with vegetables
GREEN PEAS RECIPES
GREEN PEAS WITH VEGETABLES RECIPE
Ingredients:
- Peas.
- Green Bean
- 1 potato
- 1 carrot
- 1 onion
- Garlic
- Salt.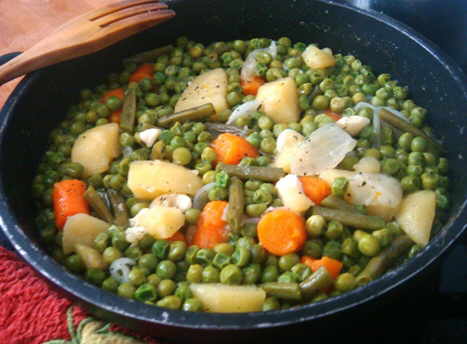 In the image: green peas with vegetables
Preparation:
- Wash and cut all the vegetables.
- Sauté the onion, the garlic and the potatoes in a little oil,, with a pinch of salt, for about 5 minutes over medium heat.
- Add the green beans, carrots and peas. Cook with lid and medium-low heat for 25 minutes.
- Serve as a starter or accompaniment.
Properties:
This energetic and healthy dish gives us complex carbohydrates, which are absorbed gradually. This dish it brings us very remarkable fiber content, from vegetables and peas. The fiber content will keep us satiated between meals.
It is an ideal recipe compatible with all types of healthy diet that helps prevent heart disease and colon cancer. It is recommended in diets for cholesterol and constipation.

More information about Mediterranean diet in the listing above.
Other interesting articles
This material is for informational purposes only. In case of doubt, consult the doctor.
"Botanical" is not responsible for damages caused by self-medication.