Guava food
EDIBLE PROPERTIES OF GUAVA
GUAVA AS FOOD
Guava, plenty of antioxidants
Guava (Psidium guajava) is a tropical fruit that contains more antioxidants than any citrus.
Botanically, guava is a fruit tree of the Myrtaceae family, the same family that owns the allspice, cinnamon myrtle (Backhousia myrtifolia), eucalyptus and clove.
Guava has a type of fleshy fruit called berry, globose or sometimes elliptical, green on the outside and pale pink flesh or, depending on variety, on the inside.
Qualities of Guava
The guava pulp has a nice texture and fleshy, sweet and slightly acidic taste, This fruit can be white, yellow, pink or red, depending on variety.
The fruits are ripen when the shell reaches a yellowish green hue pink or yellow, depending on the variety. Then they are ready for consumption.
How to eat Guava
It is cut into quarters and the skin is removed because of the numerous tiny seeds, which contains in its interior.
It can be taken raw, sliced ​​as dessert (typical dessert in all of South America), or with shakes, juices, fruit skewers or fruit salads.
Guava can also be cooked in panetela,, atole, jellies, jams, jellies, pies, syrups, sauces, sweets or cakes. In this case, it provides a less strong and very sweet flavor.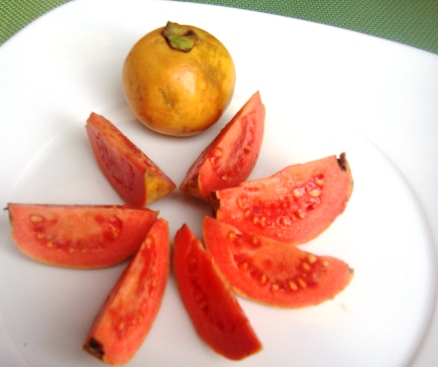 In the image: cut guava in a decorative way
Nutritional properties of guava
- Calories: Guava is a tropical fruit with fewer calories that gives us about 30kcal per unit (60g.
- Carbohydrates: It gives us natural fruit sugars, including fructose, but in small quantities, about 7g. 60g per piece. This makes it a perfect fruit for diabetes.
- Protein and fats: guava fruit is low in these nutrients, so it is recommended to accompany food with proteins and healthy fats, such as coconut, almonds or nuts.
- Fiber: Guava is a fruit rich in pectin, a type of fiber with beneficial properties for the digestive system. This type of fiber also provides the ideal texture for shakes and jams.
- Minerals: Guava is rich in potassium, with diuretic properties. Its mineral content helps to alkalize the body.
- Vitamins: guava is noted for its richness in vitamin C, one of the fruits with the highest content of vitamin C. It also has important contribution of provitamin A in the form of mainly anthocyanins. These substances have antioxidant and skin protective and stimulate the immune system.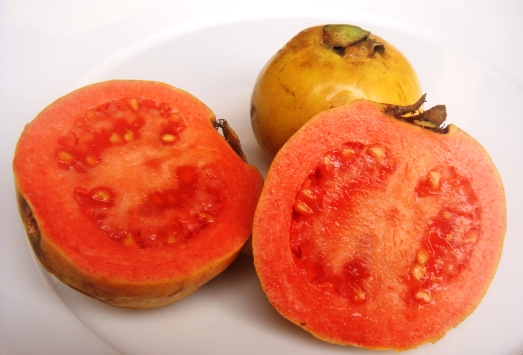 In the image: a whole guava and another one divided in two parts
Properties of Guava
- A tropical fruit full of vitamins: guava contains more than 3 times the antioxidants of orange or lemon, and is one of the most powerful antioxidant fruits in the world.
- Diabetes: the guava fruit and leaves contain at least 13 substances against diabetes. Its leaves are used in tea to treat diabetes. A scientific study has shown that natural guava juice helps treat diabetes.
- Heart Disease: Guava is very healthy to prevent and treat heart disease. Helps prevent cardiac arrhythmias, and lower blood pressure and to control cholesterol levels.
- Antiseptic: guava leaves are chewed as a natural antibiotic against bacteria that cause bad breath.
* More information about the medicinal properties of guava in the listing above.
Guava composition per 100g
Nutrient
Amount

Calories (kcal.)

51

Carbohydrates (g.)

11,88

Proteins (g.)

0,82

Fat (g.)

0,60

Fiber (g.)
5,4
Vitamin C (mg.)
183,50
Vitamin B1 or Thiamin (mg.)

0,05

Vitamin B2 or riboflavin (mg.)

0,05

Vitamin B3 or niacin (mg.)
1,20
Pantothenic acid (mg.)

0,15

Vitamin B6 or pyridoxine (mg.)

0,14

Folate (mcg.)

14

Calcium (mg.)

20

Magnesium (mg.)

10

Phosphorus (mg.)

25

Sodium (mg.)

3

Potassium (mg.)
284
Iron (mg.)

0,31

Zinc (mg.)

0,23

Copper (mg.)

0,10

Selenium (mcg.)

0,60
Water (g.)

86,10
Who is recommended to take Guava?
The guava fruit is healthy and rich in nutrients, so it should be included in the diet of the population. For its properties, is especially recommended for those with diabetes, heart problems and who need more antioxidants in their diet:
- Diabetes: This fruit is nutritionally adequate for people with diabetes, because it contains balanced sugars and it's rich in vitamin C and provitamin A, which protects the eye naturally. Scientific studies show that this fruit is beneficial to help control blood sugar levels. It is also important to accompany a diet for diabetes.

- Cardiovascular disease: Guava has proved in scientific studies to have a beneficial result for people with cardiovascular disease, such as hypertension and cholesterol. Its rich and nourishing vitamins help reduce "bad" cholesterol, diminish high blood pressure and prevent heart disease.

- Athletes: Being high in antioxidants, this fruit is an ideal reinforcement for athletes who need vitamins and moisturizing with few calories.

- Stress: Guava helps the body fight stress symptoms, because of its antioxidants, vitamins and nutritional value.

- Smoking: People with smoking habits should introduce greater daily amounts of antioxidants in their diet. Guava is a fruit rich in antioxidants such as vitamin C, carotenoids and anthocyanins.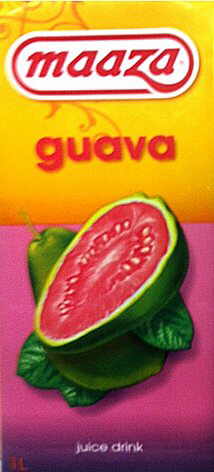 Guava juice is very usual in shops
How guava is sold?
- Fresh fruit: usually only found in tropical or subtropical countries, in local markets and shops of Latin products. Fresh fruit is the one with higher content of fiber, antioxidants and vitamins, and skills at diets. See recipe.
- Guava juice: Fruit juice prepared from guava or guava puree, containing more than 25% fruit. Always look for natural juices (not at concentrate ones) and preferably " with no added sugar".
- Guava nectar: ​​The difference between nectar and juice or guava is in its sugar content. Nectar is prepared from concentrate, and has a much higher sugar content than the natural juice. Because it is produced on an industrial scale, it has lost its natural vitamins. This type of preparation is the least recommended.
- Frozen pulp: An industrial product that is made from the pulp of ripe guavas. Sold frozen and ready to be added to cakes, pies, milkshakes, etc.. See recipe.
- Guava syrup: Guava is preserved with sugar.
- "Cascos confitados" (Confit helmets) : Dessert typical in all South America. It's like guava in syrup, but it is prepared with cinnamon, cloves and other spices, and sugar. Typically, the fruit is cut in helmet shape. See recipe.
- Guava jam: As its name suggests, it is a jam made with guava pulp and sugar, cooked and packaged. It can be prepared at home and there are trademarks that produce it. See recipe.
- Guava jelly or syrup: It is a type of thick jam, concentrated and very sweet, which is prepared to add to waffles, ice cream, puddings and milkshakes.
- Guava sandwich: Typical dessert in Colombia, also known as " veleño sandwich". It's kind of sweet guava paste, with solid texture, which is prepared with crushed fruit and sugar, and then wrapped in banana leaves (Calathea lutea). In other countries, it is a preparation similar to quince. This type of preparation is rich in fiber and sugars, and can help in cases of constipation.
- Other products that we can find in the market are frozen guava and guava vinegar.

More information about guava in the listing above
Other interesting articles
This material is for informational purposes only. In case of doubt, consult the doctor.
"Botanical" is not responsible for damages caused by self-medication.