Characteristics and properties of heather honey
BENEFITS OF HEATHER OR HEATH HONEY
What is heather honey?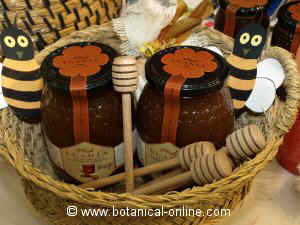 Photo of heather honey
Heather or heath honey is produced by bees when they mainly release heather flowers.
What is heather honey like?
It is an amber red or almost dark honey with a bit bitter taste and with little smell.
Like most dark honeys, it has a high mineral content.
Properties of heather honey
Heather honey is a type of honey that can increase diuresis, that is to say, the production of liquids.
What is heather honey used for?
It is recommended in cases of liquid retention, rheumatism and for the treatment of abnormalities of the urinary system, especially for cystitis and kidney stones.
It is also recommended for the treatment of heart diseases: arrhythmia, myocardial infarction, angina pectoris, etc.
* Related información:

More information on heather in the listing above
Other interesting articles
This material is for informational purposes only. In case of doubt, consult the doctor.
"Botanical" is not responsible for damages caused by self-medication.