Jackfruit properties
Artocarpus heterophyllus
MEDICINAL PROPERTIES OF JACKFRUIT
Traditional uses of Jackfruit
The Indian Ayurvedic Medicine used this fruit for its antibacterial, anti-inflammatory, anti-diabetes, to increase immunity, as an antioxidant, to reduce fever, constipation, and as a remedy for snake bites.
Unripe fruits are astringent and contain trypsin inhibitors. Trypsin is an enzyme that decomposes protein. If jackfruit is ingested raw, trypsin is inhibited, so that the body can not digest food and may suffer from stomach pain, nausea, vomiting or diarrhea. (Cooking destroys trypsin inhibitors, so they eat jackfruit boiled or cooked with coconut milk and curry).
Ripe fruits are refreshing and have laxative effect.
Seeds are diuretic and laxative.
Internal use preparations with jackfruit extract, pulp or juice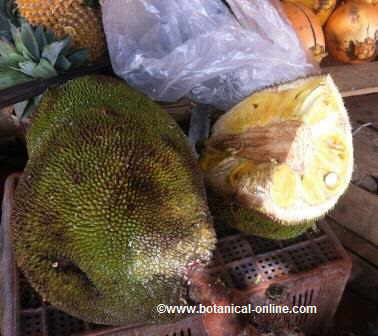 Photography of jackfruit in a street market
.
Ripe fruit also contains energy as carbohydrate (20g. per 100g.), High doses of calcium (up to 72 mg. Per 100g. More than milk) and potassium (323 mg. Per 100g.) Suitable for preventing fluid retention.
Scientific studies have shown that, in addition to these properties, it can help lower cholesterol and triglycerides. These components are found in the leaves and jackfruit leaf extract. (Take jackfruit leaves aqueous extract under medical supervision).
Medicinal external applications of jackfruit
Jackfruit? For sexual power?
There is some controversy over the use of this fruit as an aphrodisiac. Although some books have attributed it to increase sexual power, in countries like Sri Lanka, people have observed that taking its seeds a few hours before the intercourse causes the opposite effect.
A scientific study that analyzed the effects of the seeds on the excitement, virility and sexual performance concludes that jackfruit fruit is not an aphrodisiac remedy.
OTHER USES OF JACKFRUIT

More information on jackfruit.
Other interesting articles
This material is for informational purposes only. In case of doubt, consult the doctor.
"Botanical" is not responsible for damages caused by self-medication.