Natural treatment for bad circulation in the legs
Home remedies for poor circulation in the legs
NATURAL TREATMENT OF BAD CIRCULATION IN THE LEGS
Phytotherapy: Medicinal plants for circulation in the legs
Medicinal plants used for the treatment of poor circulation of the legs are generally the same as those used for poor circulation in general (see remedies for poor circulation).
However, we can focus on those plants that are especially useful for the specific treatment of poor circulation in the legs.
Main herbal remedies for poor circulation in the legs
We can point out the following medicinal plants: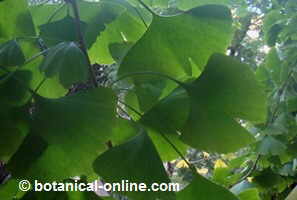 Ginkgo leaves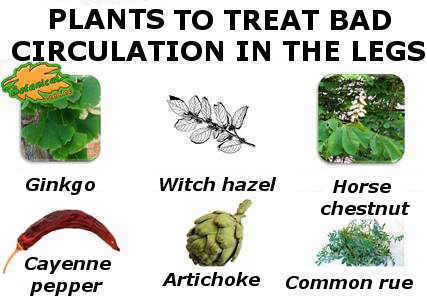 Main medicinal plants for the treatment of poor circulation in the legs, drawing by © Botanical-online.com
SUPPLEMENTS FOR BAD CIRCULATION IN THE LEGS
Vitamins and minerals and other supplements for poor circulation of the legs
Vitamin E: This vitamin is suitable for those with poor circulation in the legs, over all those who suffer from calf cramps or leg muscles when walking or painful calf cramps during the night. (For improvement, initial doses of 200 IU daily are recommended and increased to 400 or 500 IU)

Niacin (Vitamin B3): Niacin produces a relaxation of blood vessels which increases their elasticity and improves circulation. The administration of niacin supplements is interesting in diseases that are caused by poor circulation, such as poor circulation in the legs or poor circulation in the hands. (1500 mg of inositol hexaniacinate divided into 3 daily doses)
AROMATHERAPY FOR BAD CIRCULATION
Essential oils for poor circulation in the legs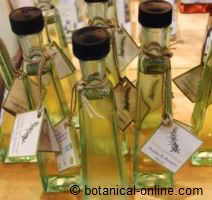 Photo of rosemary essential oil
Rosemary essential oil or geranium essential oil are used to relieve poor circulation in the legs.
Other natural resources: How to improve poor circulation in the legs?
Massage in the legs, feet and calves: Massages of legs and feet favor circulation in the legs. It is important that these are performed by a professional masseuse.

Make foot baths with hot and cold water: Bathing your feet with warm water and immediately applying cold water helps improve circulation in the legs and feet. Hot water draws blood to the outside of the blood vessels of the lower limbs (hence the skin turns red).
Cold water sends the blood back to the interior. In this way a movement is produced that favors the blood circulation.

The greater the contrast between hot water and cold water the better the efficiency of the bath. However be careful not to burn. It is also important to get accustomed to the body gradually to this temperature difference.

More information on circulatory diseases in the listing above
Other interesting articles
This material is for informational purposes only. In case of doubt, consult the doctor.
"Botanical" is not responsible for damages caused by self-medication.