MEDICINAL PROPERTIES OF LIME
Citrus aurantifolia
Characteristics of limes?
Common English name: Key lime, Mexican lime, West Indian lime
- Spanish: lima; lima ácida, chica o boba; limón mexicano, dulce, chiquito, criollo, sutil o limón agria (fruto). El árbol se llama limero.
Scientific name: Citrus aurantifolia Swingle
Family: Rutaceae - citrus family
Habitat: the key lime grows feral in Himalayan valleys and it is cultivated up to 1,200 m. It is grown in tropical and subtropical areas of the world.
Lime tree description
Small evergreen tree that can reach up to 4m. tall. The trunk is much branched, the branches are thin and have spines in the axils.
Leaves alternate, simple, entire, oblong-ovate and glabrous, very aromatic. Flowers solitary or in axillary corymbs, hermaphrodites, or white petals with purple tones and very fragrant.
Fruits are fleshy berries of size and shape similar to that of a lemon, with bright green skin that turns yellow when ripe. The skin is smooth and rough, with thinner skin compared to other citrus such as oranges or lemons. The flesh is juicy, sweet and very acidic.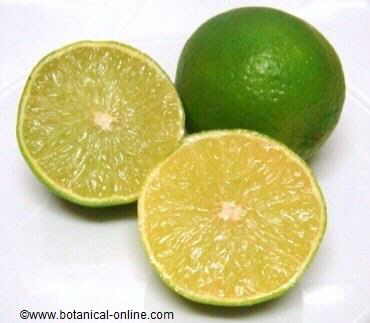 Photo of lime

Origin and history of limes
Lime is a plant native to Southeast Asia, in the Indo-Malaya. The plant was introduced into Asia and Egypt by the merchants of the Middle East in the tenth century. From Saudi Arabia, it came to Africa and reached Europe through the invasions of Spain, in the thirteenth century. Christopher Columbus brought limes to America on his second voyage to the continent.
Key lime was introduced in the Caribbean and Mexico by the Spanish, and it is known, by a report from the time, it was grown in Haiti in 1520. The plant is easily naturalized in these regions, where it still continues to be cultivated.
Key lime came to America in the sixteenth century, when Spanish conquerors introduced it in Florida.
Currently the main producers of limes are Brazil, Mexico, the Caribbean, India and the United States.
Plant composition
- Carbohydrates, protein, fiber
- Organic acids: citric, malic, oxalic, quinic, malonic.
- Essential oil (leaves and fruits): limonene, myrcene, alpha and beta pinene, p-cymene, sabinene, terpinene gamma, terpinolene, cineol, citronellal.
- Minerals: calcium, potassium
- Flavonoids: narnigenina, hesperidin, xanthophylls
- Coumarins: bergapten, limetina
MEDICINAL PROPERTIES OF KEY LIME
Lime juice, like other citrus, has a high content of vitamin C, calcium, potassium and essential oils. It has antiscorbutic, detoxifying, diuretic, expectorant and antiseptic properties.
It avoids fatigue, rheumatic discomfort and propensity to colds and infections. The leaves and fruit peel contains essential oils with sedative and antispasmodic virtues.
Among its medicinal properties we want to point out the following:
Internal preparations with key lime
- Obesity: Citrus as lime, are usually associated to treat obesity. These indications are due to its diuretic and antioxidant properties, which help eliminate fat, detoxify and help maintain the health of the cardiovascular system and lower cholesterol. These fruits can not miss when dieting and when doing cleansing diets. (Take lime juice 2 times a day). For its diuretic properties, lime juice is suitable for arthritis, gout and rheumatism.
- Tranquilizer: It is considered that lime balances the nervous system, because in their oils there are calming essences. The tea leaves are used for upset stomach and cramps of nervous origin, for anxiety and insomnia. In Malaysia, take the canned lima with vinegar to relieve headache (Infusion of a teaspoon of dried leaves three times a day, or infusion of the bark of key lime).
- Cardiovascular System: Vitamin C, along with flavonoids, assist in maintaining the arteries by means of improving their elasticity and preventing spills that occur in veins and capillaries. Eating or drinking lime juice helps prevent and treat hypertension, controls the appearance of hemorrhoids or varicose veins and prevents bruising or small nosebleeds or bleeding gums.
- Cholesterol: Vitamin C helps reduce cholesterol and poor circulation, because of its antioxidant properties. (Drink lime juice a few times a day. It can be mixed with other fruit juices. Introduce a piece of lime in a glass of water to give it curative value and enjoy refreshing its medicinal properties).
- Natural antibiotic: Key lime contains at least 10 antiseptic components. Along with the properties of vitamin C to prevent colds, flu and infections. This fruit is very suitable to help fight winter illnesses. As preventative medicine, you can take lime juice 1 or 2 times a day during the changing seasons.
- Stomach: Traditional medicine attributed key file properties to protect the stomach. It contains limonene that stimulates production of mucus in the stomach and has anti-inflammatory effects against gastritis. Its aromas stimulate the appetite and increase the production of saliva. So, on the one hand, lime awakens appetite and, moreover, it helps improve digestion.
It is recommended to take it as food when someone tends to have slow digestion or heartburn. (Drink lime juice a few times a day. Infusion of a teaspoon of dried leaves or a piece of lime rind, 3 times a day. Introduce a piece of lime in a glass of water to give it a refreshing value and to enjoy its medicinal properties). For its citric acid content, although not as high in lime and in other citrus fruits, it can irritate sensitive stomachs, so if taken in juice, it should be done with a full stomach.
- Respiratory diseases: Key files are rich in limonene, which possesses antitussive, anti-inflammatory and antibacterial properties. These properties make it very suitable for treating respiratory conditions such as
- Bronchitis: Essential oils of lime alleviate bronchi, relax thoracic muscles and help relieve coughing (Infusion of a teaspoon of dried leaves or a piece of lime rind, 3 times a day. Combine with plants that relieve sore throat caused by coughing, such as plantain, mallow or marshmallow).
- Asthma: Vitamin C has antihistamine properties appropriate to treat allergies, asthma attacks and other allergic symptoms such as sneezing and mucus. The essential oil (limonene) have antiasthmatic properties (Infusion of a teaspoon of dried leaves or a piece of lime rind, 3 times a day. Take lime juice 2-3 times a day).
- Cancer: More and more studies highlight the anticancer properties of essential oils. In case of the lime, limonene has demonstrated a protective role against the breast, liver, lung, stomach and skin cancer. Limonene is in parts richer in lime oils, mainly in the cortex (because it contains essential oil glands, like all citrus), so you should also squeeze this part when making lime fruit juice.
- Care of the skin, bones and joints: Vitamin C is involved in the formation of bone tissue, which favors greater bone health and prevent osteoporosis by allowing the body to absorb more calcium.
Is important for skin care, that antioxidants are takenfrom food, as masks and skin creams can not penetrate into the inner layers of the dermis, where collagen is. Taking foods rich in vitamin C protects collagen, resulting in brighter skin with fewer wrinkles and sagging, younger looking.
People with rheumatoid arthritis may benefit from diuretic and detoxifying properties of lime, since this fruit will bring the necessary vitamin C for the body to keep joints in good condition. The file is also suitable in the diet for ligaments, since vitamin C helps to manufacture and maintain tissues and joints of the body.
Contraindications of key lime
It is s Not recommended to pregnant women to take key lime preparation too often because it contains bisabolene. Plants rich in this component have abortifacient effects.

More information about lime
BOTANICAL CLASSIFICATION


Kingdom

Plantae - Plants

Subkingdom

Tracheobionta
Vascular plants

Superdivision

Spermatophyta
Seed plants

Division

Magnoliophyta
Flower plants

Class

Magnoliopsida
Dicotyledonous

Order

Sapindales

Family

Rutaceae - Rutáceas

Subfamily

Citroideae

Tribe

Citreae

Gender

Citrus

Species

C. aurantiifolia

More information about lime.
Other interesting articles
This material is for informational purposes only. In case of doubt, consult the doctor.
"Botanical" is not responsible for damages caused by self-medication.