TREATING LUPUS IN A NATURAL WAY
HOW TO TREAT LUPUS NATURALLY
Systemic lupus erythematosus (SLE) is an autoimmune disease that can affect various body organs. Its symptoms are diverse and may disappear or worsen depending on the evolution of the disease. (More information on lupus symptoms)
The natural treatment of lupus implies complementary treatments such as therapies, nutritional supplements and herbs that help treat the symptoms of the disease.
Always consult your doctor before taking any new drugs or nutritional supplements.
Keeping a relaxed lifestyle
Stress aggravates the symptoms of lupus, as it influences the immune system:
- Avoid situations that generate anxiety.
- Sleep between 10 and 11 hours a day: the rest is necessary to alleviate the symptoms of the disease. It is recommended to do a meditation or a short nap during the day.
- Perform moderate physical activity, such as swimming, biking, etc.. Moderate physical exercise (without reaching exhaustion), helps manage fatigue and improve overall wellness of the body.
- Practice relaxation activities: yoga, tai-chi, painting, learn to draw, make crafts, listen to relaxing music, etc..
- Ask for help when you need it.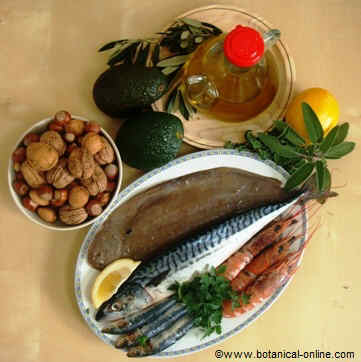 Sources of Omega 3: This type of fat helps the body reduce inflammation.
Eating a healthy diet
Diet for lupus is aimed to provide, through a balanced diet, nutrients, vitamins and minerals to help improve the symptoms of the disease, or to prevent its outbreaks.
This diet therapy consists of:
- Increase Omega 3 fat intake for its anti-inflammatory effect
- Increase the supply of minerals deficient in this disease, such as magnesium
- Ensure the provision of necessary vitamins like vitamin A, D, E, beta carotene, folic acid and pantothenic acid.
* More information on the diet for lupus in the listing above.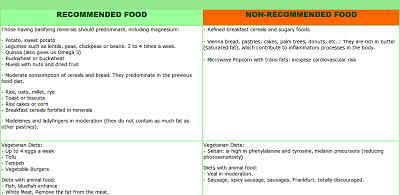 Recommended and non-recommended foods for lupus
No sunbathing in case of lupus
- The sun's rays or the exposure to ultraviolet rays can lead to serious skin damage, such as rashes or burns. Do not be in the sun for too long.
- People with lupus should be protected from the sun with sunscreen, light clothing or umbrellas.
See your doctor regularly
Lupus requires regular medical supervision. Do not skip routinary medical visits. If you want to get pregnant, medical control should be strict.
Natural Therapies
Alternative treatments and herbal medicine can help treat lupus.

More information on lupus natural remedies in the listing above
Other interesting articles
This material is for informational purposes only. In case of doubt, consult the doctor.
"Botanical" is not responsible for damages caused by self-medication.