Characteristics of lymphatic system
Lymphatic system parts and functions
What is the lymphatic system?
The lymphatic system is a system of channels and nodes along which white blood cells, particularly lymphocytes, flow in a liquid called lymph. Lymph is a fluid containing protein and fat originating from intestinal fluid called chyle
Parts of the lymphatic system
The immune cells are produced in bone marrow (B lymphocytes) and thymus (T lymphocytes). Other immune organs are the spleen, lymph nodes and tonsils.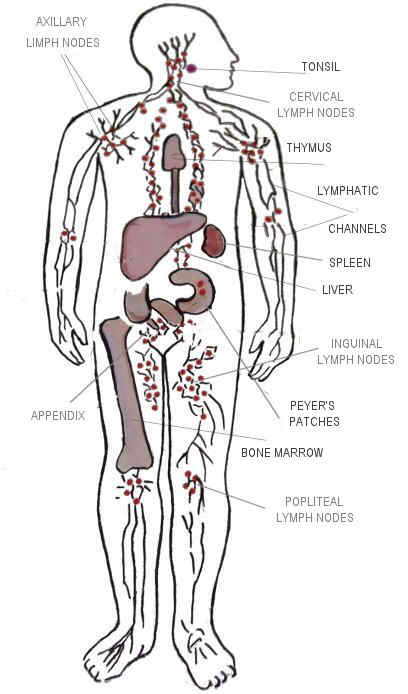 Drawing of the lymphatic system showing the different parts.
Lymphatic System Functions
The lymphatic system is responsible for collecting excessive fluids from body tissues and return them to the blood. It is known as the "second circulatory system" because it forms a kind of parallel network around the genuine circulatory system.
Fluid transfer takes place from the capillaries into the body tissues in order to feed them. Most of the fluid is reabsorbed back through the capillaries, but some of it is left free and must be absorbed by the lymphatic capillaries. Once within the lymphatic channels, the liquid is filtered and returned back to the veins.
Besides this function, the lymphatic system is the main component of the immune system. The flow channels are known as lymph vessels and the extensions are called lymph nodes. Lymph nodes are bean-shaped clusters formed and distributed in parts of the body such as armpits, neck, or groins.
In the lymph nodes liquids are purified and absorbed. Furthermore, in lymph nodes lymphocytes are stored. When microorganisms invade the lymph, or abnormal cells or foreign objects are recognized, the lymph nodes produce more immune cells to be able to fight infection and remove what is considered to be strange to the body, such as bacteria or cancer cells

At this time the lymph nodes increase considerably in size and are more sensitive to touch. This is why, for example, tonsils get bigger and hurt when we have tonsillitis.

More information about immune system
Other interesting articles
This material is for informational purposes only. In case of doubt, consult the doctor.
"Botanical" is not responsible for damages caused by self-medication.