Marjoram contraindications
(Origanum majorana = Majorana hortensis)
WHEN YOU SHOULD NOT TAKE MARJORAM
Who should avoid taking marjoram?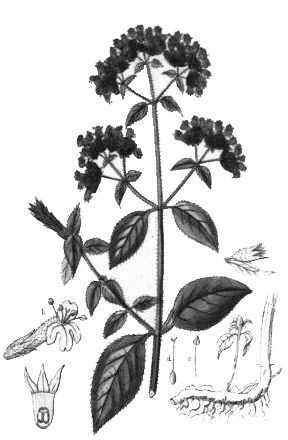 Illustration of the plant
- Allergic people: people with allergies to plants of the family of lamiaceae, such as thyme, sage or rosemary, should be careful with the use of marjoram.
- Sensitive skin: the marjoram can produce contact dermatitis in people with sensitive skin.
- People with digestive disorders: due to its aromatic components, marjoram can cause outbreaks and digestive disorders to people suffering from Dumping syndrome, inflammatory bowel disease, Crohn's disease and irritable bowel.
- People with blood in the urine: Do not administer in case of hematuria or presence of blood in the urine.
- Children under 6 years: marjoram essential oil and plant as a medicinal remedy should not be used in children under 6 years because it can cause allergy and bronchospasm.
- Long treatments: The medicinal use of marjoram should NOT be perpetuated for more than 2 weeks. Continued use may cause headaches and drowsiness.
Contraindications of marjoram essential oil
Pure essential oils are very concentrated preparations which are extracted from this plant by distillation. These preparations are toxic in moderate doses and in high doses could trigger reactions that could be deadly. For this reason, remedies should not be used with marjoram essential oil in internal use, as it can be dangerous.
Also pregnant women and children should not use essential oils with essential oils (neither in internal use nor in external use).
Marjoram in pregnancy and breastfeeding
- The use of marjoram during pregnancy is not certain because some authors claim that it has emenagogue effects, which stimulate menstruation.
* More information: Plants and pregnancy.
There is insufficient scientific research to guarantee the use of marjoram during lactation. It is recommended to take precaution and NOT to perform medicinal treatments with marjoram during lactation.
* Related information: Marjoram toxicity, marjoram side effects

More information on marjoram in the listing above
Other interesting articles
This material is for informational purposes only. In case of doubt, consult the doctor.
"Botanical" is not responsible for damages caused by self-medication.