Mozzarella salad
HOW TO PREPARE A MOZZARELLA SALAD?
Ingredients:
- Mozzarella cheese
- Lettuce
- Cherry tomatoes
- Black Olives
- Oregano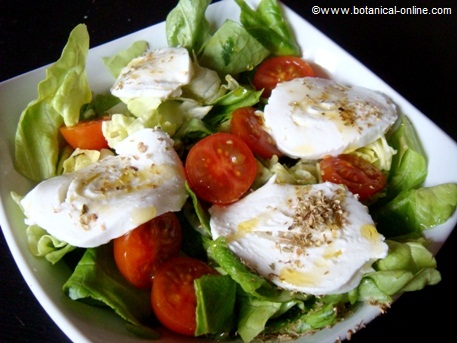 Mozzarella salad with tomato cherry.
Preparation:
- Wash and cut the tomatoes in half.
- Wash and cut the lettuce.
- Cut the mozzarella cheese.
- Place the lettuce leaves on the plate.
- Place the mozzarella cheese decoratively.
- Add the cherry tomatoes.
- Sprinkle with oregano, salt and season to taste.
Properties:
Recipe rich in fiber, vitamins, lycopene, and minerals that the lettuce and fresh vegetables such as tomatoes provides us. Mozzarella cheese is rich in proteins of high biological value. It also gives us calcium.
Ideal as a main dish salad or accompaniment. Suitable for people with diabetes and obesity.

More information on natural medicine in the listing above.
Other interesting articles
This material is for informational purposes only. In case of doubt, consult the doctor.
"Botanical" is not responsible for damages caused by self-medication.