Mushroom benefits
What are mushrooms good for?
NUTRITIONAL PROPERTIES OF MUSHROOMS
Mushrooms for low fat diets
First thing that mushrooms stand ou is their lightness. Mushrooms contain a very large amount of water (between 82 and 92%) and a very low content in carbohydrates and fats. They move approximately between 1 and 3% carbohydrate on a 1.5% fat.
This is the reason why they are used in some weight-loss diets. As part of the "shock" in many of these diets. That is, they are the staple food for one or two days in the weekly schedule. For this reason, some diets recommend these foods for obese people.
We have to consider that other components contribute to the lightness of this food. Among them we highlight their wealth in potassium or their high fiber content. Potassium, as we shall see below, helps to remove body fluids and fiber produces a greater feeling of satiety while promotes intestinal transit, preventing the occurrence of constipation, reducing the absorption of cholesterol and toxins.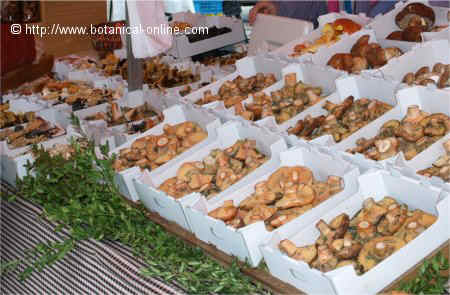 The sale of mushrooms by travelling- vendors in Autumn is something common in many places where mushroom abound
Mushrooms are rich in vitamins and minerals,
Mushrooms have been accused to be a little nutritious food. It's not completely true. While containing little fat or carbohydrates, they are a fairly rich food in minerals and vitamins.
Although there was a desire to state that mushrooms can be a substitute for animal protein, the protein content of mushrooms is relatively low and does not come at all to animal meat (about 25%) or fish (20%), not even those containing cereals, legumes, or nuts (about 15%) within the plant foods.
Average protein content in mushrooms is similar to that of vegetables (between 2 and 7%), except when they are dehydrated (about 9%.)
Mushrooms nutritionally stand out more because they contains minerals and vitamins. They are a good source of potassium, copper, phosporus but they are specially rich in selenium
*More information: Minerals in mushrooms
Speaking of their vitamin content, mushrooms are rich in B vitamins, especially riboflavin (vitamin B2) and niacin (vitamin B3). Riboflavin is especially interesting to maintain hair healthy, promoting its growth or helping to slow its fall. It also helps to have healthier and more beautiful nails and stronger bones. Besides, it contributes to increase defenses and keep eyesight and nerves healthy.
Mushrooms are a good seasoning, rich in aromas and flavors
Despite its lightness and richness in vitamins and minerals, we should not consume large amounts of mushrooms. Mushrooms contain in its composition many hard substances such as chitin.
Chitin is a substance that forms the cell walls of fungi. It is the same product that forms the skeletons of insects, crustaceans or arachnids. The human digestive system can not digest chitin. Therefore, mushrooms can be indigestible if eaten in large quantities.
Mushrooms in the kitchen should play a more interesting role. They should be considered like herbs or spices.
Properly cooked and in reasonable quantities, they add to the meat or vegetables aromas and flavors, turning what should be "more or less anodyne" in "authentic culinary delights".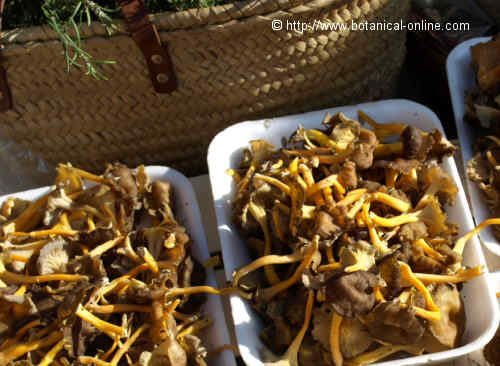 Orange chanterelle mushroom (Cantharellus lutescens) is usually sold in markets for its ability to withstand fine drying, allowing it to be preserved for a long time very easily. It is a type of highly aromatic and delicious mushroom
What is the composition of some raw mushrooms?
Composition of some mushrooms per 100 g

Component

Common mushroom raw

Portobello raw

Water

91,81 g

91,20 g

Calories

25 Kcal

26 Kcal

Fat

0,33 g

0,20 g

Proteins

2,9 g

2,5 g

Carbohydrates

4,08 g

5,07 g

Fiber

1,2 g

1,5 g

370 mg

484 mg

4 mg

6 mg

104 mg

130 mg

5 mg

8 mg

0,49 mg

0,400 mg

10 mg

11 mg

0,112 mg

0,142 mg

1,04 mg

0,60 mg

0, 73 mg

0, 60 mg

8,8 mg

11 mg

2,3 mg

0

0, 090 mg

0, 077 mg

0, 424 mg

0, 480 mg

4, 040 mg

4, 500 mg

12 mcg

22 mcg

Vitamin B6

0, 102 mg

0, 100 mg

0

0

0, 120 mg

0, 129 mg

Component

Cremini raw

Shiitake cooked with salt

Water

92,30 g

83, 48 g

Calories

22 Kcal

55 Kcal

Fat

0,10 g

0,22 g

Protein

2,5 g

1,56 g

Carbohidrates

4,12 g

14, 28 g

Fiber

0,6 g

2, 1 g

Potassium

448 mg

117 mg

Sodium

6 mg

4 mg

Phosphorus

120 mg

29 mg

Calcium

18 mg

3 mg

Copper

0,500 mg

0,896 mg

Magnesium

9 mg

14 mg

Manganese

0,142 mg

0, 204 mg

Iron

0,40 mg

0,44 mg

Zinc

1,10 mg

1, 33 mg

Selenium

26 mg

24,8 mg

Vitamin C

0

0,8 mg

Vitamin B1
(Thiamin)

0, 095 mg

0, 037 mg

Vitamina B2 (Riboflavin)

0, 490 mg

0, 170 mg

Niacin

3, 800 mg

1,5 mg

Folacine

14 mcg

21 mcg

Vitamin B6

0, 110 mg

0, 159 mg

Vitamin A

0

0

Vitamin E

0, 113 mg

0, 120 mg
MEDICINAL BENEFITS OF MUSHROOMS
In addition to its nutritional properties, it has been proven in recent decades that most edible mushrooms contain components that are beneficial to health.
The medicinal properties of some mushrooms such as reishi (Ganoderma lucidum), maitake (Grifola frondosa) and shiitake (Lentinus edodes) have been used for a long time in the East, but its recognition and expansion among Western countries is increasingly evident.
Among the main healing properties of mushrooms, we are the following:
- Healing of Cancer: It is been studied the possibility that some mushrooms can be useful in curing cancer. This research is conducted specifically with maitake mushroom. They contain lentinan and fraction D, two principles that could stop the growth of cancer cells by stimulating lymphocytes and macrophages and, therefore, they prevent metastases from some cancers.
- Stimulation of the defensive system:This same fungus have been attributed to increase the defense system properties. They are obtained from a series of extracts rich in chitin and beta-D-glucans 1-6 that are able to stimulate red blood cells responsible for neutralizing the invasion of bacteria or viruses.
It has been found that fungi in general has developed a number of components in their natural environment ot defend themselves from bacteria. These same principles are those that are ingested by people when they eat mushrooms.
- Fluidization of blood and arteries protection: Many mushrooms contain principles with antiplatelet properties very useful to decrease platelet aggregation and cause blood to flow more easily, while protecting the walls of blood vessels.
Bying this, they improve circulation and help prevent the onset of many cardiovascular diseases, such as heart attacks, heart palpitations, ateroclerosis, strokes, etc.

More information on other medicinal mushrooms in the listing above.
Other interesting articles
This material is for informational purposes only. In case of doubt, consult the doctor.
"Botanical" is not responsible for damages caused by self-medication.