Mustard sauce properties
Health properties of mustard sauce
MUSTARD SAUCE PROPERTIES
What effects mustard sauce has?
- Mustard sauce is a strong seasoning that should be consumed in small quantities.
- It has a high potassium content, which makes it a slightly diuretic sauce.
- Mustard seeds are rich in selenium and aromatic substances, which have antioxidant properties.
- The aromatic components of mustard stimulate gastric secretions, so this sauce is an excellent snack. Also for this reason it has been used to combine with dishes difficult to digest, especially to accompany game meats.
- However, its spicy and intense flavor is a warning for delicate stomachs: indeed, mustard is mildly irritating to the digestive mucosa, so those who suffer from heartburn, dyspepsia or digestive ulcers should avoid consuming it.
RECIPE OF OLD STYLE MUSTARD SAUCE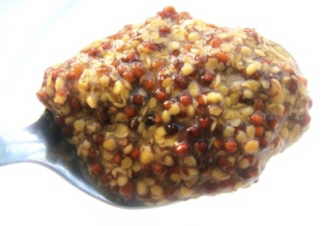 Image: Old style mustard sauce, Dijon
Ingredients of old style mustard sauce
- Mustard seeds (mixture): 50g. Indian mustard seeds (Brassica juncea), 50g. white mustard seeds (Sinapis alba)
- 120ml. wine vinegar
- 2 tablespoons lemon juice
- Salt
Preparation of old style mustard sauce
- Soak mustard seeds overnight with wine. Allow seeds to be hydrated for 12 hours in a refrigerator.
- Grind the above mixture until all the grains split without being crushed completely. Let stand 1 hour in refrigerator.
- Cook the mixture over low or medium heat, uncovered, so the spirit of the wine vinegar evaporates. Add 1 tablespoon of salt, and add more vinegar if necessary. Bake for 30 minutes, stirring constantly.
Mustard contains a type of fiber called mucilage, with emollient effect, that, combined with vinegar, forms a gel. The gel provides the ideal solution for this sauce texture.
- Remove from heat and let it cool. Add 2 tablespoons of lemon juice when the mixture is cool.
- Grind the seeds of the above mixture to form a thick sauce, then, mix with whole seeds. So we get a sauce with more flavor.
- Mix the crushed mustard with whole mustard seeds in vinegar and salt at will.
- Do not add water to the recipe because it would shorten its shelf life. If desired, you can add oil.
Black mustard is very irritating. We do not recommend it in condiments, although it can be used. If using black mustard, take it in small quantities or mixed with (the less spicy) white mustard.

More recipes and information on mustard in the listing above.
Other interesting articles
This material is for informational purposes only. In case of doubt, consult the doctor.
"Botanical" is not responsible for damages caused by self-medication.