Medicinal plants for bleeding nose
Home herbal remedies for nosebleed
REMEDIES FOR NOSE BLEEDING
How can we stop the bleeding with natural procedures?
The natural treatment for nosebleeds, involves using a series of natural resources aimed at stopping the bleeding. These treatments would mention:
PHYTOTHERAPY: HERBAL REMEDIES TO STOP BLEEDING
Phytotherapy in the treatment of nosebleeds is based on the use of astringent plants suitable to prevent bleeding through the nose. Among them, we will mention the following:
External use medicinal plants for nose bleeding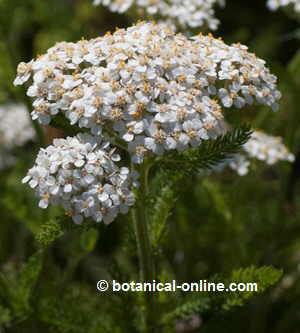 Photo of yarrow flowers
Internal use preparations to stop nose bleeding
Other home remedies for nosebleed
Other interesting articles
This material is for informational purposes only. In case of doubt, consult the doctor.
"Botanical" is not responsible for damages caused by self-medication.