Treatment for bleeding nose
Home remedies for nosebleed
REMEDIES FOR NOSE BLEEDING
How can we stop the bleeding with natural procedures?
Astringent plants
The natural treatment for nosebleeds, involves using a series of natural resources aimed at stopping the bleeding. These treatments would mention:
- Medicinal plants: They are those plants, which for its astringent properties, promote clotting and stop the flow of blood.
- Supplements: Vitamins that help prevent frequent nosebleeds or increase blood production.
- Diet: A suitable diet prevents nosebleeds.
PHYTOTHERAPY: HERBAL REMEDIES TO STOP BLEEDING
Phytotherapy in the treatment of nosebleeds is based on the use of astringent plants suitable to prevent bleeding through the nose. Among them, we will mention the following:
External use medicinal plants for nose bleeding
- Yarrow: (Achilea millefolium) High in tannins, chamazulene, apigenin, and luteolin that give it astringent properties. The powder of yarrow can be inhaled through the nose to treat nosebleeds. (Inhale a speck of dust made by grinding the dry plant)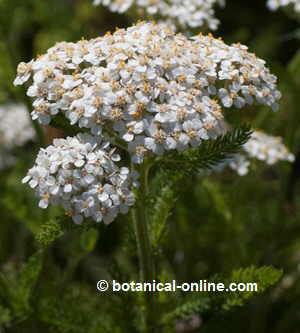 Photo of yarrow flowers
- Holm oak (Quercus ilex): The genus Quercus (oak, holm oak, etc.) contains species whose bark has very prominent astringent properties. A remedy to prevent bleeding from the nose is to crush a piece of dried bark of oak in a mortar, mince with a grinder and inhale a little bit through the nose.
- Lime: (Citrus aurantifolia) Lime is very rich in vitamin C, that, along with flavonoids, assists in maintaining the arteries by means of improving their elasticity and preventing spills that occur in veins and capillaries (Take lime juice 2 times a day)
- Oak: (Quercus robur) Crush a piece of dried bark of oak in a mortar, mince with a grinder and inhale a little bit with the nose.
- Cypress (Cupressus sempervirens) (Inhalation of vapors of hot water in which we have added about 7 drops of cypress essential oil per liter of water.)
- Horse chestnut. (Aesculus hippocastanum) the tannin wealth of the bark of horse chestnut gives it astringent properties. The decoction of the bark of horse chestnut can be applied to stop the bleeding. (Decoction of 50 gr. of bark in a liter of water for 10 minutes. Apply with cotton in the nostrils)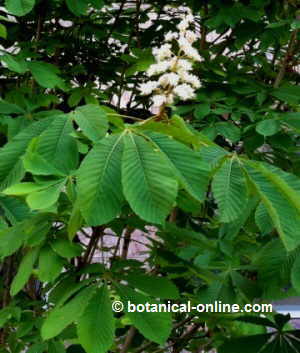 Photo of horse chestnut flowers and leaves
- Elder: (Sambucus nigra) Another tree with proven astringent properties. (Crush some dry leaves into a powder. Insert a bit in the nostril that is bleeding.)
- Lemon tree: (Citrus limonum) Lemon juice is one of the best natural astringents. Suitable for "dry" skin imperfections such as pimples or blackheads. This property can be used to promote healing of small wounds that occur in the nasal vessels (Dip a cotton swab with lemon juice and place in the bleeding nose. Keep it inside for 20 minutes.)
- Nettle: (Urtica dioica) Applying the juice of nettle inside the nostrils helps to stop bleeding.
- Parsley: (Petroselinum crispum) Parsley juice strengthens the walls of small blood vessels in the nose and helps prevent breakage. (Soak a cotton ball with parsley juice and insert into the nose)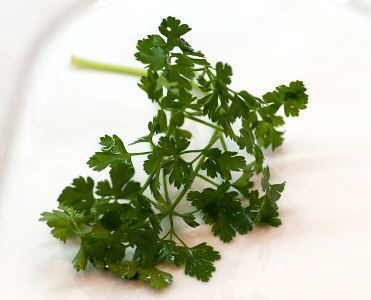 Photo of parsley leaves
- Witch hazel: (Hamamelis virginiana) Witch Hazel oil can help stop the bleeding. (Soak a cotton ball with a little oil and clog the nose)
- Golden Seal: (Hydrastis canadensis) Apply gold seal tincture in the nose to stop bleeding.
- Purple loosestrife: (Lythrum salicaria) The juice of this plant helps to stop nosebleeds. (Dip a cotton with juice and introduce it into the bleeding nostril for about 20 minutes.)
- Red vine: (Vitis vinifera L.) The powder obtained by crushing red vine dried leaves can be used as an astringent to stop nosebleeds (Crush some dry leaves to reduce them to dust and inhale a little)
Internal use preparations to stop nose bleeding
- Yarrow: (Achilea millefolium) In internal use, yarrow encourages the body to have the ability to clot more quickly, which promotes resistance to persistent nosebleeds. (Infusion of this plant, one teaspoon per cup of water. One cup a day)
- Horsetail: (Equisetum arvense) Horsetail is a good remedy to stop bleeding because its content in pectic and gallic acids that are good hemostatic to stop bleeding. (Decoction for 30 minutes of 100 gr. of the dried plant per liter of water. Take three cups per day)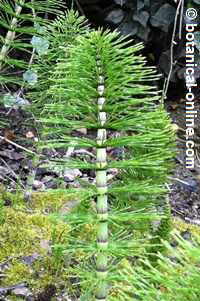 Photo of horse tail
- Nettle: (Urtica dioica) Nettle is a strong vasoconstrictor. (Fresh plant juice, obtained by crushing and screening plant pulp. The same can be obtained by buying directly from health food stores. Take half a cup a day divided in the morning and evening)
- Cypress (Cupressus sempervirens) the ability of this plant to stop bleeding has been proved, including nose bleeding. This power is determined by its hemostatic properties to strengthen the capillaries, whose breaking is responsible for nosebleed. (A couple of cups before two main meals of the decoction of a couple of tablespoons of dried green fruits per liter of water for 5 minutes. Let it stand for about 12 minutes before drinking)
- Alfalfa (Medicago sativa) the abundance in vitamin K gives this herb its coagulant properties. (Drink 50 grams daily of fresh juice of the leaves divided into two doses)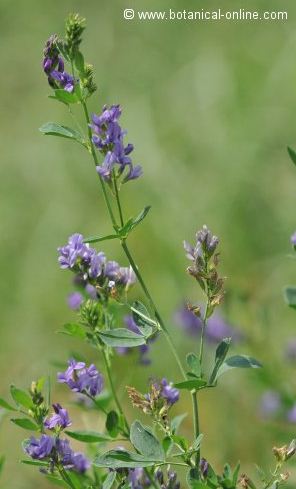 Photo of alfalfa plant
Other resources:
- To accelerate the treatment of the small wounds of the nasal capillaries, apply a little Vaseline inside the affected nostril.
- Install a humidifier unit in the room where we spent more time will help to prevent nosebleeds.



More information on nosebleeds in the listing above
Other interesting articles
This material is for informational purposes only. In case of doubt, consult the doctor.
"Botanical" is not responsible for damages caused by self-medication.