Oats to lose weight
Slimming properties of oatmeal
BENEFITS OF OATS IN SLIMMING DIETS
Are oats suitable in weight loss diets?
Numerous studies confirm that oat bran is an indispensable food in the diet for those people who want to lose weight with health.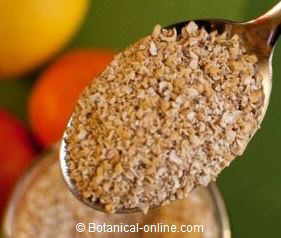 Photo of a spoonful of oat bran, a supplement rich in insoluble and soluble fiber (betaglucans). Approximately 1 tablespoon of oat bran contains 24 calories, 6g. Of carbohydrates and 2 g. Of proteins.
Oats (Avena sativa) is a cereal rich in protein and fiber. Its carbohydrate content is lower than other grains and is low in fat.
Oat bran contains part of the oatmeal and also contains the outer or husk of the grain, which is very rich in fiber.
Due to these properties, oats are a very suitable food in diets to lose weight, since obesity, excessive fat and cholesterol has become one of the major health problems in Western society.
Oat flakes and oat bran were undeniable components of the popular Dukan diet.
Advantages for slimming of oat bran
Oat bran has properties that make it very suitable to be commonly introduced into the diet of those people who wish to lose weight in a healthy way.
- It contains a high proportion of beta glucans, a soluble fiber that in contact with water increases in size and produces a feeling of satiety. This property is useful for people with food anxiety as it helps them to lessen the feeling of hunger.
- Oats are rich in complex carbohydrates, that is, carbohydrates that are slowly absorbed in the body, prolonging the fullness of meals and delaying the feeling of hunger. It is very suitable for people who want to lose weight. Since they feel full, they will avoid chopping between hours or eating other foods that would not allow them to lose weight.
- Oats have proven effects on cholesterol reduction: Cholesterol levels in the blood may be elevated when obesity exists. Taking oat bran daily for 4 weeks significantly reduced levels of bad cholesterol (LDL) and triglycerides.
Benefits of oats to lose weight
In addition to its properties for slimming, oat bran has other benefits:
- Helps control diabetes and may help prevent adult diabetes (More information)
- Scientific studies show that incorporating oats in a diet to lose weight, in addition to losing weight, is able to treat other problems such as hypertension, reduce cholesterol and triglycerides, improves intestinal flora and treats numerous digestive diseases (constipation, hemorrhoids, heartburn, etc.).).
Oatmeal remedies for weight loss
Due to the benefits of oats for obesity and the prevention of some associated diseases, people wishing to lose weight are advised to use one of the following oatmeal remedies:
- The recommended amount of oat bran to lose weight when overweight is 1 teaspoon bran 3 times a day, with 1 glass of water.
- If high cholesterol and obesity occur, mix equally oat bran with wheat bran. Take 1 teaspoon 3 times a day, with 1 glass of water.
- In case of intestinal problems (constipation, hemorrhoids, etc.) it is recommended to accompany 2 yogurts a day, preferably bifidus type.
Precautions for slimming with oat bran
Before using oatmeal remedies for slimming, the following warnings should be kept in mind:
* Drink plenty of water along with oat bran because it is rich in fiber. Fiber needs to be hydrated to have the desired effect to provide satiety, eliminate cholesterol and avoid intestinal problems such as flatulence, belly swelling or even intestinal occlusions). Drink at least 2 liters of water a day.
* Read the contraindications of oats, especially in case of intestinal diseases.

More information on oats in the listing above.
Other interesting articles
This material is for informational purposes only. In case of doubt, consult the doctor.
"Botanical" is not responsible for damages caused by self-medication.