Tapenade
OLIVADA (TAPENADE) RECIPE
OLIVE RECIPES
Ingredients:
- Canned black olives.
* See: canned olives recipe.
- Rosemary to taste
- Thyme to taste
- Table salt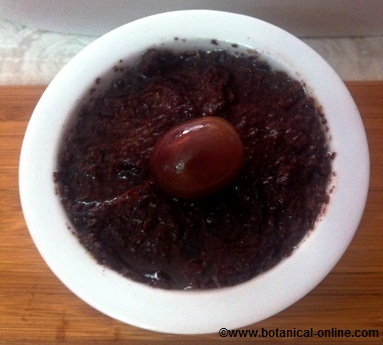 Photo of olivada (Tapenade)
Preparation:
- Bone the black olives
- Place the pulp of olives in a bowl to shred.
- Add spices to taste and blend.
- Add salt and serve.
Properties:
This is a different recipe to present as a starter or as a dip. Due to the salt content of canned olives, people with hypertension should be moderate.
* Related information: Mediterranean diet characteristics.

More information about Mediterranean diet in the listing above.
Other interesting articles
This material is for informational purposes only. In case of doubt, consult the doctor.
"Botanical" is not responsible for damages caused by self-medication.