Pancreatitis menu
The best food for pancreatitis
PANCREATITIS MENU
What can I eat?
After taking into account the recommended foods for pancreatitis, it is possible for a person to be confused or not be clear how to eat normally.
We recall that a pancreatitis diet should be:
- Virtually with no fat (only olive oil is used, up to 30ml daily.)
- Rich in protein (a protein food at each meal)
- Each meal must contain grains or tubers
- With vegetables in main meals
- Fruits, fresh and baked
- Use very little oil or any other type of fat in the preparations or dressings.
- Dishes can be sweetened with sugar or honey.
- You can serve it with bread.
- If you are still hungry you can take these foods: nonfat yogurt, cheese 0 %, bread, mashed potatoes, potato or sweet potato, bread rusks
- In case of diabetes a moderate carbohydrate intake according to one's medication.
* More information: Pancreatitis and diabetes.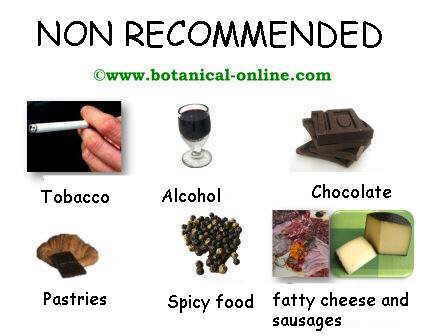 Food and habits to be removed when pancreatitis.
EXAMPLE OF SOME MENUS FOR PANCREATITIS
The following chart shows examples with vegetarian options for the daily food intake of people with pancreatitis:
DAY 1
Breakfast
Skimmed milk or soy
Bread Rusks
Strawberry Jam
Mid-morning snack
Yogurt with papaya
Lunch
Zucchini Rice
Papillote Fish / Boiled Tofu
Green Salad
Mandarin
Mid-afternoon snack
Apple
Skimmed yogurt drink
Dinner
Mashed potatoes without oil
Asparagus omelette (only two egg whites without yolk)
A pineapple slice
Supper
Nonfat yogurt with oats
DAY 2
Breakfast
Apple juice
Rice cakes with jam
Mid-morning snack
Papaya
Skimmed milk or soy milk
Lunch
Pasta with tomato sauce and extruded soy protein
Baked chicken without oil
Tomato salad with cheese 0 %
2 fresh apricots
Mid-afternoon snack
Yogurt with strawberries and oats
(Or a shake with these ingredients)
Dinner
Cream of zucchini with potato
Tofu, fish or white meat
Fruit compote
Supper
Curd
Infusion
DAY 3
Breakfast
Yogurt with papaya and oatmeal.
Infusion
Mid-morning snack
Skimmed milk or soy milk
Bread with jam
Lunch
Spinach with chickpeas ( only 1-2 chickpeas handfuls)
White fish or tofu
Roasted potatoes
Figs
Mid-afternoon snack
Bread rusks with quince
Skimmed milk or soy
Dinner
Russian salad with potatoes, carrots, tender beans and tofu or boiled chicken
Salad of lettuce with tomatoes and cheese 0 %
Orange

Supper
Skimmed milk or soy milk
DAY 4
Breakfast
Carrot and apple juice
Bread with jam
Mid-morning snack
Soybeans shake with oats and fruit
Lunch
Gazpacho with bread
Chicken or tofu with roasted potatoes
Baked apple
Mid-afternoon snack
Roasted Sweet Potato
Pineapple juice
Dinner
Tomato salad, 0 % cheese and beetroot
Zucchini omelet (only egg white, without egg yolk)
Bread
Pear in syrup
Supper
2 tangerines

More information about PANCREATITIS in the listing above.
Other interesting articles
This material is for informational purposes only. In case of doubt, consult the doctor.
"Botanical" is not responsible for damages caused by self-medication.