strawberries lose weight
STRAWBERRY DIET
STRAWBERRY DIET
What is the diet of strawberries?
The diet of strawberries is a purifying diet that uses this fruit to achieve lower weight or detoxify the body. This diet is widely used within so-called spring diets, since strawberries are one of the most important fruits of spring.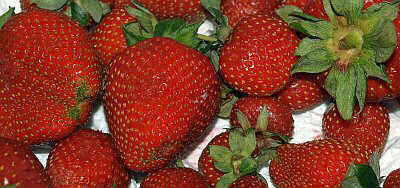 Strawberries wild or cultivated, can be used
with the same properties to do this diet
Benefits and properties of the diet of strawberries

Among the main virtues of the strawberry diet we will mention the following:

- For the treatment of obesity.
- For the treatment of constipation.
- For cholesterol control
- To reduce hypertension.
- For the treatment of atherosclerosis.
- For bruising or bleeding.
- For tuberculosis.
- For the treatment of fluid retention.
- For the treatment of rheumatism or gout
- To maintain good bone health.
- To keep hair healthy and delay the onset of baldness and gray hair.
- To strengthen nails and skin.
- To tone the liver.
- For gallstones and kidney stones. (Except those formed by calcium oxalate)
- To improve mood and maintain good health of the nerves.
- For spring tiredness or fatigue.
- To increase sexual desire.
- To hydrate the body.
- As an antioxidant, the elimination of toxins. (Contaminants such as pesticides, fertilizers, heavy metals, etc)
- To purge the gut of toxins that can develop cancer.
- As revitalizing and mineralizing, to fight anemia.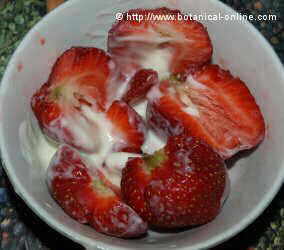 Yogurt and strawberries are one of the best combinations with which to enjoy the taste and properties of these fruits.

More information about strawberries and natural diets in the listing above.
Other interesting articles
This material is for informational purposes only. In case of doubt, consult the doctor.
"Botanical" is not responsible for damages caused by self-medication.