Symptoms of an epileptic attack
SYMPTOMS OF EPILEPSY
How do you know an epileptic seizure is going to take place?
An epileptic seizure is manifested in the form of shocks that occur in any body part or the whole body of the affected person. During these attacks the individual may suffer loss of consciousness and breathing difficulties.
Other times, when the attacks are not so strong, the patient may be aware of what happens in her/his body.
How long an epileptic seizure is?
The duration of a seizure is usually a few minutes but it can last several or even several days.
If the duration is short, it will not be dangerous for the patient. However, when a prolonged attack takes place, it can threaten the life of the person concerned.
How to be aware of an epileptic patient having a seizure?
In general, you can feel a part of your body begins to feel numb or begins to tremble. This type of feeling can stay focused on this particular part of your body or radiate to half of the body of the affected patient.
What are epileptic auras?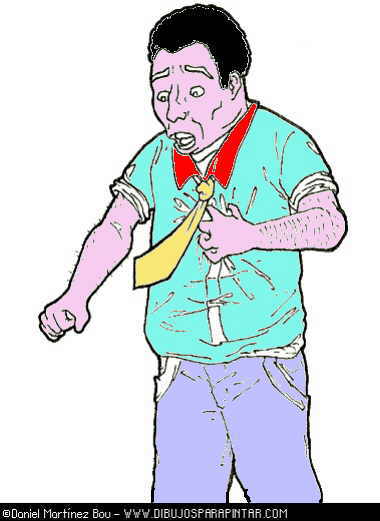 Man feeling an epigastric aura before an epilectic attack
One of the most characteristic symptoms of a possible seizure are the sensations (auras) that a patient experiences when he feels that there is in the air a smell or a particular flavor or when she/he feels different than normal. These rare sensations are called epileptic auras. For example:
Epigastric aura: strange sensation in the stomach of the person who is having a seizure.

Intellectual aura: confused mental state before an epileptic seizure

Aura plant: Body movements prior to a seizure

Hearing aurea: auditory sensations that precede an attack of epilepsy

Aura procursiva: Desire to run prior to an epileptic attack.
How to act in case of epilepsy?
Facing a person with a seizure, one must act as follows:
Do not move the affected person

Put something soft under the patient's head so as not to hit him/her.

Do not give anything to eat or drink or put any object in her/his mouth
- The patient will require hospital care in the following cases:
In case of pregnancy

In case of major trauma

If there is the socalled status epilepticus (when the patient does not regain consciousness between attacks or when an attack is lasting more than 5 minutes) This type of attack can damage the patient's brain
.

More information on epilepsy in the listing above
Other interesting articles
This material is for informational purposes only. In case of doubt, consult the doctor.
"Botanical" is not responsible for damages caused by self-medication.