WATERCRESS RECIPES
(Nasturtium officinale)
GRATED WATERCRESSES WITH WHITE SAUCE RECIPE
Ingredients for 4 people:
- Two handfuls of watercresses.
- Flour.
- Olive oil.
- Salt
- White sauce. (bechamel sauce)
Preparation:
- Wash and separate the leaves from the watercress properly. Pass them in flour and fry them in a frying pan lightly with Olive oil hot.
- Place the watercress sauteed in a dish and cover with bechamel sauce.
- Grate them in the oven.Ways to serve them: As a first course.
Other watercress recipes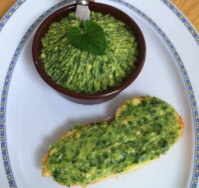 Vegetable pate with watercresses
Among other watercress recipes, we highlight the following:
- Vegetable pate with watercresses and mushrooms
Other interesting articles
This material is for informational purposes only. In case of doubt, consult the doctor.
"Botanical" is not responsible for damages caused by self-medication.