Boraginaceae
Borage family (Boraginacea)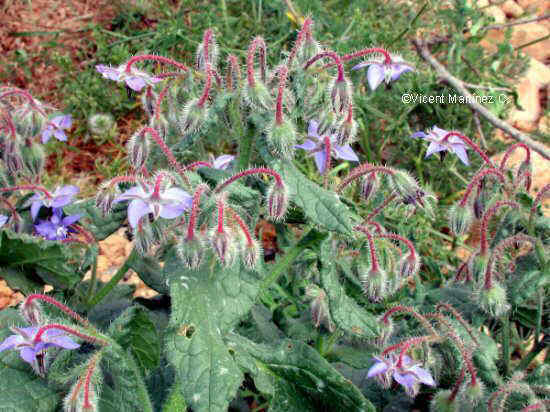 Photo of Borago officinalis L, a boraginaceae used as food and medicinal plant
The Borage family -boraginaceae- comprises about 2000 species scattered all around the world. They are mainly herbs and shrubs.
Leaves (1): alternate, undivided with no stipules.
Stems (2): covered with rough hairs.
Flowers:

In cymes
Calyx (3): 5 sepals

Symphytum asperrimum

Corolla (4): 5 petals, bell or funnel -shaped..
Stamens: 5 united to the corolla tube.

Ovary: superior

Style (5): 1

Fruit: Tetra-achene
Genera
The most important are the following:
ALKANNA
AMSINCKIA
ANCHUSA
ASPERUGO
BORAGO
BUGLOSOIDES
CERINTHE
CYNOGLOSSUM
ECHIUM
ELIZALDIA
HELIOTROPIUM
LAPPULA
LITHODORA
LITHOSPERMUM
MYOSOTIS
NEATOSMENA
NONEA
OMPHALODES
ONOSMA
PENTAGLOTTIS
PULMONARIA
ROCHELIA
SOLENATHUS
SYMPHYTUM
Other interesting articles
This material is for informational purposes only. In case of doubt, consult the doctor.
"Botanical" is not responsible for damages caused by self-medication.