Golden rain tree care
Koelreuteria paniculata
HOW TO GROW GOLDEN RAIN TREE, CARNISH TREE
Characteristics of the plant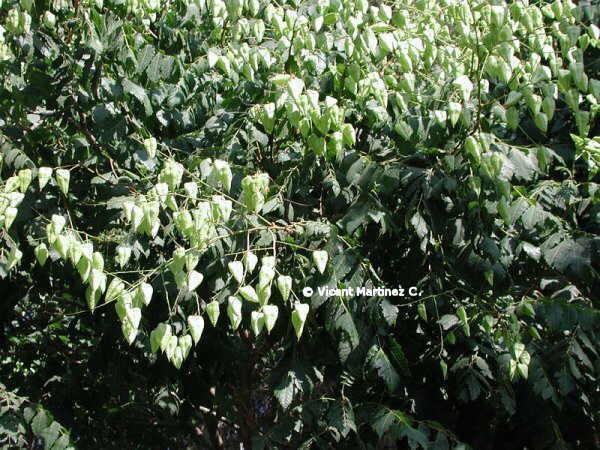 | | |
| --- | --- |
| | June - July. Yellow flowers with 4 petals in long inflorescences. Fruits inflated, heart-shaped, papyraceous, formed by 3 pieces, remaining on the tree for a long time.. Deciduous tree, it can reach 15 m. |
| | Water regularly, although it resists drought very well. |
| | As a square or street tree for its thick shade and for its spring leaves that present different forms, as well as for its ornamental fruits. |
| | Sun, very resistant to heat and drought and quite resistant to cold. It doesn't support sea atmosphere. |
| | By means of seeds in autumn or root cuttings in winter. It grows slowly. |
| | Fertile, alkaline soil, better loose. |

Species of "Koelreuteria"
Koelreuteria bipinnata ---------------- Pride of China, Chinese flame tree
Koelreuteria elegans------------------- Flamegold tree


More information about plants cultivation in the listing above.
Other interesting articles
This material is for informational purposes only. In case of doubt, consult the doctor.
"Botanical" is not responsible for damages caused by self-medication.