Ficus carica L.
Fig tree
PHOTOS OF FIG TREE
Ficus carica, general aspect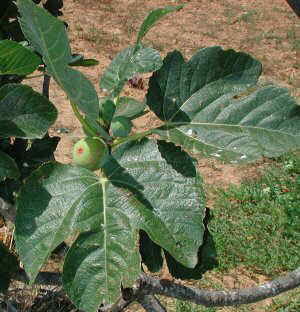 Detail of leaves and fruits (fig)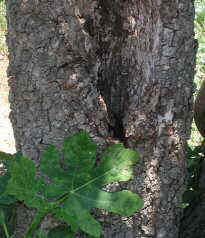 Detail of trunk
Ficus carica L. - (Fig tree)
Deciduous tree of the fig family -moraceae- up to 4 m., much more wide tan tall. Smooth stems with grey bark. Leaves alternate, palmatifid with 3 to 5 round lobes, very rough to the touch above, pubescent below. Flowers inside a pear-shaped receptacle which later becomes fruit (the fig) green when unripe and matures into yellowish green or dark purple. Genuine from SW of Asia, it can be found naturalized in S. Europe, being present in rocky warm places of the Mediterranean zone. Highly cultivated because of its fruits and as an ornamental tree throughout Europe.
More information about plants in the listing above.
Other interesting articles
This material is for informational purposes only. In case of doubt, consult the doctor.
"Botanical" is not responsible for damages caused by self-medication.