Why does skin become inflamed?
Inflammation of the skin
ATOPIC DERMATITIS CHARACTERISTICS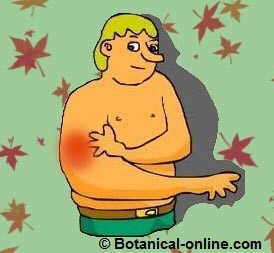 Reddening and itching are the main symptoms of dermatitis
What is atopic dermatitis?
Atopic dermatitis is a recurrent inflammation of the skin. Produced by both external factors or by genetic factors.
Atopic dermatitis appears at certain times of life to lie dormant for another, until it is reactivated.
It is quite common in infants, in which case it is called infantile eczema.
The main symptom is itching and inflammation. The strong itching causes the patient to scratch, what usually produces skin lesions that can become infected and, ultimately, lead to excessive production of dead skin cells creating areas of skin that looks like hard crusts of darker color.
In many cases, atopic dermatitis often disappears on its early stages and, in smaller numbers, this disease continues during childhood and, in even fewer cases, in youth and maturity.
Dermatitis stages
There the following stages in atopic dermatitis:
Baby atopic dermatitis: It is when the disease first manifests itself in the baby for more than three months, determining that the skin of the cheeks, forehead, neck or chest reddens and may cause bleeding and itching. In half the cases the disease disappears by itself.

Childhood atopic dermatitis: It appears in patients who do not overcome the atopic phase of the baby, so the disease becomes active again at 3 or 4 years of age. In this case,there is redness on the scalp, and in the crease behind the knee or arms.
The intense itching leads to scratching that produces the characteristic hard and darker skin. In ¾ of the patients with this stage, the disease does not progresses and dissapears during youth.
Juvenile and adult atopic dermatitis: It is the first time for those who have not passed the stage atopic children, at 12 or 14 years of age. It is mainly characterized becauses it causes hardened skin areas which are darker or lighter than normal.
Causes of atopic dermatitis
It is not known exactly what causes atopic dermatitis, however numerous studies seem to relate it to a type of allergic skin reaction.
Although this point has not been demonstrated, it has been verified that, in many cases, people with atopic dermatitis often have or have people in their family who have other allergies like hay fever asthma or food allergy.
For this reason, some researchers believe that it would be a type of allergy that affects the skin, which occurs among people who are genetically more prone to allergic reactions.
Symptoms of atopic dermatitis
Among the possible symptoms we can mention the following:
Itching: It is very strong and very difficult to control. It requires people who suffer it from scratching all the time.

Reddening: In the cheeks, the forehead, the neck or the chest in the suckling babies. In the scalp, the crease behind the knee or arms in youth and in these areas or other in adults.

Scabs in the skin hardened of darker or clear color of the normal thing.

Hardened scabs on skin, darker or lighter than usual.

Whitish circles on the face (pityriasis alba)

Irritation in the lips (scaly cheilitis)

Irritation of the eyelids (atopic blepharitis)

Tongue fitted with different colored spots.

Eruptions in the cheeks, knees or elbows.

Cracked feet (juvenile plantar dermatitis)

Blisters, sometimes with pus.

Areas of the body devoid of skin as a result of scratching

Etc.
Diagnostics of atopic dermatitis
The diagnosis of atopic dermatitis must be conducted through a medical examination of the affected areas of the skin and through an analysis of patient's medical history or family members to check whether any of them have a history of allergies.
Unlike contact dermatitis, there is no concrete evidence to validate this disease, that can only be diagnosed by its symptoms.
How to treat atopic dermatitis?
The official treatment of atopic dermatitis involves some or all the following:
Use of topical corticosteroids.

The internal use of antihistamines can help control itching.

It may be necessary to use oral antibiotics in case of skin infection.

In adults, it has been recommended the application of ultraviolet rays for more reluctant cases,.
Natural treatment of atopic dermatitis
The natural treatment of atopic dermatitis supposes the use of a series of natural resources that can help to prevent or to improve the symptoms of this anomaly.

More information on the natural treatment of the atopic dermatitis and other types of dermatitis.
Other interesting articles
This material is for informational purposes only. In case of doubt, consult the doctor.
"Botanical" is not responsible for damages caused by self-medication.