Natural herbal treatment for ovarian cysts
CHARACTERISTICS OF OVARIAN CYSTS
What are ovarian cysts?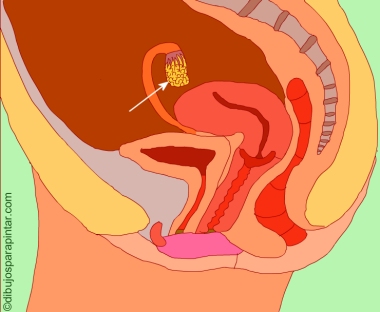 Drawing of a female sexual apparatus with the arrow pointing to the ovary, which is a part where cysts are usually produced. Drawing courtesy of © dibujosparapintar.com
Ovarian cysts are tumors that take place in the ovary.
Symptoms of ovarian cysts
The main symptoms of ovarian cysts are:
Weight in the abdomen

Menstruation disorders

Urinary retention

Bowel problems

Pelvic pain

Painful intercourse

Etc.
Causes of ovary cysts
The main causes of ovarian cysts are:
Functional ovarian cysts that develop after ovulation, which disappear in about two months without treatment.

Excess of androgens is responsible for polycystic ovaries, which has its manifestation in the development of amenorrhoea and require appropriate treatment to eliminate the adverse effect of androgen excess.

Benign tumors

Cancerous tumors (Given this possibility, in front of the previous symptoms, a gynecological revision is recommended, especially when a cyst that does not dissolve spontaneously in the first 2 months.)
PHYTOTHERAPY: HERBAL REMEDIES FOR OVARIAN CYSTS
Phytotherapy in the treatment of ovarian cysts uses medicinal plants with the following properties:
Antitumor plants, to prevent the appearance of cysts or delay their development.

Antioxidant plants, which are the best prevention against the appearance of free radicals, main responsible for the development of tumors, both benign and cancerous.

Analgesic plants to reduce pain.
Internal use preparations with plants for ovarian cysts
Among the main herbal remedies to treat ovarian cysts, we have the following: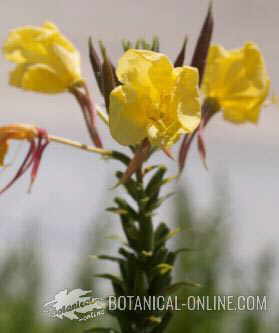 Evening primrose oil is shown as a fairly effective product to decrease the size of ovarian cysts
Evening primrose: (Oenothera biennis L.) (Three daily capsules in the morning and three at night for 30 days)

White hawthorn: (Crataegus oxyacantha L.) (15 drops of tincture in the morning and 15 at night)

Pasque Flower: (Anemone pulsatilla L) (Tincture of the fresh plant). Never use during pregnancy. Toxic by accumulation, use with caution!

Juba's bush (Iresine diffusa): It is not fully demonstrated its use as an antitumor, although it is considered that the extract is beneficial for the treatment of prostate cancer, cervical fibroids, breast tumors and ovarian cysts.
External use remedies for ovarian cysts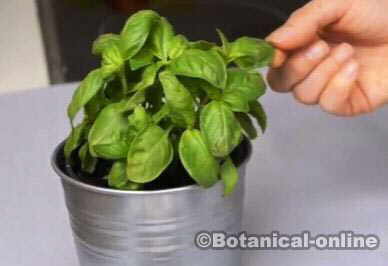 To reduce the pain of ovarian cysts you can perform massages with basil oil
The best remedy is to apply poultices to reduce pain.
Giant Horsetail: (Equisetum telmateia Ehrh.) Apply 3 poultices with the patient well covered in bed
Massages and irrigations to diminish pain because of ovarian cysts
Basil: (Ocimum basilicum L) abdominal massage with its oil.
Acanthus: (Acanthus mollis L.) Vaginal douches.

More information on ovarian cysts.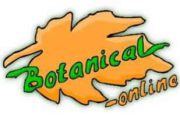 Written by
Editorial
Botanical-online team in charge of content writing