Health benefits of strawberry (Fragaria vesca)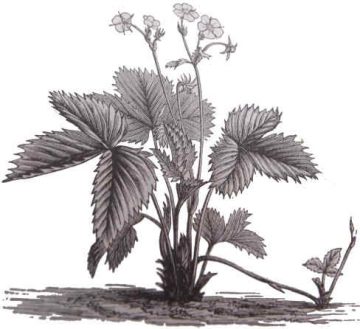 Characteristics of strawberry
Common Noun: Wild Strawberry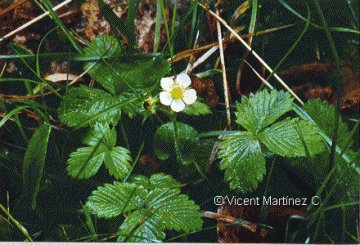 Scientific Noun: Fragaria vesca L.
Family: Rose family (Rosaceae)
Habitat: At the shade of the oaks and beeches and also by the side of the calcareous grassy paths. Sometimes near the hedges.
Description of strawberry
It is a perennial plant which sprouts every year. Leaves and flowers spring from almost the ground,both with a similar length.Flowering stems with no leaves holding flowers with five petals, five sepals and numerous stamens.
At the end of each hairy leaf-stalk we find the leaf divided in three toothed oval leaflets. They are bright green above, more pale and hairy below. It produces long rooting stolons where new plants may grow.
The fruit, which is commonly known as "strawberry", it is a red small berry. The cultivated ones are bigger. They come from a cross between the wild European strawberry and the American wild strawberries.
MEDICINAL PROPERTIES OF STRAWBERRIES
Strawberries are diuretic, depurative and antirheumatic
By drinking three or four cups of leaf and root infusion, we will feel relieved from uric acid and arthritis. This property is very useful to treat arthritis, gout or obesity (45 minutes infusion of two teaspoons of dried rhizomes and leaves per cup of water. 4 cups per day)
The diuretic capacity provides this plant cleansing properties well suited for removing toxins from the body. It is considered one of the best remedies to cleanse the body in disorders such as jaundice. (Decoction for 10 minutes of 4 tablespoons of dried root per liter of water. Take a couple of cups a day)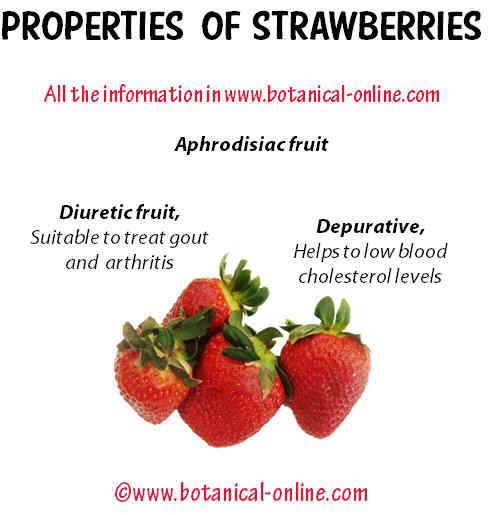 Main edible properties of strawberries
Acne: Its depurative properties can be used to treat acne, aiding to remove toxins from the body and improve skin health. (45 minutes infusion of two teaspoons of dried rhizomes and leaves per cup of water. 4 cups per day)
Cellulite: The same treatment than in acne.
Strawberry preparations take care of your skin health
Used externally, it has got astringent properties, very useful for the treatment of skin anomalies, such as oily skin, pimples, etc. (Make a mask with some mashed fruits an apply it on the affected area)
Infusions of leaves, because of their astringency, can be used to cure mouth sores. (Mouth rinses with liquid from a decoction for 10 minutes of a handful of dried root in a liter of water.
Strawberry leaves with anti-inflammatory properties
The same property is very useful for your intestines. We will drink 3 or 4 cups every day of boiled leaves against diarrhea. We will also can take a leaf infusion for intestine bloating, hiatus hernia, heartburn or gastritis.Boiling some roots will help us to diminish arthritic swellings.
Strawberry fruits are very rich in vitamin C
Its fruits, very reach on vitamin C, have antianemic and reconstituent properties. They are very suitable for growing children.
Vitamin C is a very good antioxidant. Apart from vitamin C, strawberries also contain C, ellagic acid, linoleic acid (omega 6) and alpha-linolenic acid (Omega 3). These are substances capable of inhibiting cancer substances that can attack healthy cells.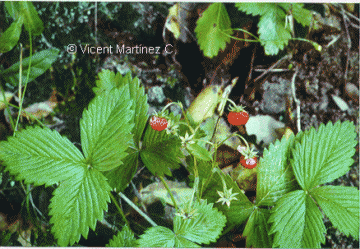 It is helpful to eat these fruits as a dessert from time to time. In the case of strawberries, a purifying strawberry diet with this food can be a good way to eliminate toxins from the body. (See more edible properties of strawberry in the listing below)
Strawberries in the kitchen
Strawberry fruits are very suitable on diet periods since they contain little sugar, therefore they are recommended for diabetic people. They are very suitable to treat cholesterol.
With these fruits we can make cakes and jams and the fresh leaves can be taken as vegetables. (Some recipes in the listing below)
Cosmetic properties of strawberry leaves and juice
Crushing the leaves and applying them to your face can be a good remedy to avoid face wrinkles.
Applying the fruit juice on the skin is a good way to get rid of skin spots, pustules and other acne signs. Skin mask can be done with the fruits for the same purpose.
Picking and storing strawberry leaves, roots and fruits
Strawberry leaves must be picked when the plant is at its complete bloom. Roots when the plant is almost withering. Fruits must be ripe. We must keep all at the shade in a dry and cool place.


More information about strawberry.
This article was endorsed by
Elisenda Carballido
- Dietitian nutritionist. Postgraduate in Phytotherapy and master in Nutrition and Metabolism.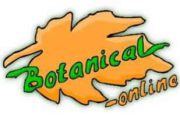 Written by
Editorial
Botanical-online team in charge of content writing