The importance of eating fruit in winter
Properties of winter fruits
Although with modern techniques we can have fruit orchards along the whole year, we should eat fruits of the season. These are the main reasons:
Seasonaly fruits are usually cheaper than those from highly specialized crops.
We will have a higher supply of vitamins and minerals if we eat the ripe fruits of the season, than buying those that have been stored in cold stores green and have artificial ripening, so their nutritional value is lower.
The taste and smell of foods recently harvested are better.
Mother Nature is wise and provides the most appropriate food for each season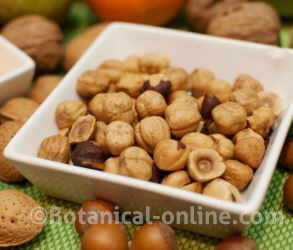 Roasted hazelnuts can be very useful in winter
Following the seasonal rhythms of the vegetation is the best advice for its benefits. Mother Nature is wise and provides the most appropriate food for each season. Thus, in summer, watermelons, with its refreshing juice and huge supply of water, can compensate for losses caused by heat. We would not like a cold slice of this fruit in winter.
No doubt, good warm hazelnut would be most desirable. Indeed the cold can be faced better with a handful of dried figs, very appropriate at this time. They know the squirrels who eat large amounts of nuts and seeds or birds pursuing the fruits of holly very rich in sugars and highly toxic to humans.
Dry fruits and nuts
Although few are really the fruits that grow during the winter, we have some that were produced during the summer or autumn, and retain their full potential during the winter, because they are adequately protected by their shells, such as walnuts or hazelnuts, chestnuts, or dehydrated as dried figs or apricots.
Some are imported from other warmer latitudes where there is a continuing boom, or are produced in the continuing warmth of greenhouses, such as mangos, bananas and other tropical fruits.
Other, less abundant, have their fulfillment during this season, such as oranges, lemons and other citrus. Choose one or the other, there is no reason to forego during these cold days of the advantages that they offer us. In this article we propose four interesting proposals. We hope you enjoy them.
MAIN FRUITS OF WINTER
Mouthwatering citrus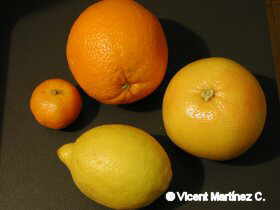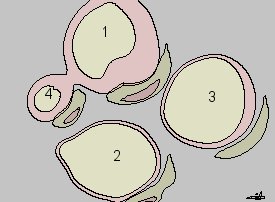 Detail of different types from citruses, the winter fruits par excellence. The name of each of them is seen in the profiles of the drawing: orange (1), lemon (2), grapefruit (3) and clementine (4)
Oranges, tangerines, grapefruits, lemons are now in full swing. All are highly recommended for its fruits high in Vitamin C, so important for our defenses as well as for maintenance of bones, teeth or hair. A good daily glass of orange juice with a little lemon juice or grapefruit will help us defend ourselves against the cold and prevent our wounds become infected.
Its richness in sugars, especially fructose, makes them easily assimilated by the body, so it can be eaten by diabetics.
Besides these properties, all of them are the best antioxidants, so that eating these fruits, we treat our body nicely. By promoting the absorption of iron, they become great aid to prevent the onset of anemia.
We must not forget, however, that vitamin C is rapidly oxidized in contact with air, so we should drink freshly squeezed juices or peel at the time we want eat it.
Oranges seem likely to come from Asian areas of India, Burma and Malaysia, from where they were taken to North Africa and from there were introduced to Europe during the Middle Ages. They did not reach the New World until after the discovery by the Spanish colonizers.
Bitter oranges are not eaten directly but are used for making jams, and they provide the Curacao liqueur flavoring.
Exotic quinces can also be eaten in winter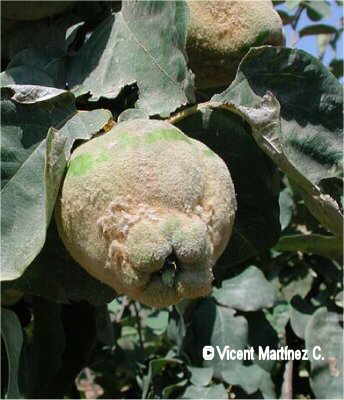 Detail of a quince maturing on the tree
Although autumn is the best time to collect quinces, we have this fruit until well into January.
Regarded as the symbol of fertility in Greece, where the bride was offered one of these fruits on the day of their wedding, quinces immediately stand out for their fragrance, which has been used as a deodorant, perfume to give to many bedrooms.
We can not say that they are very pleasant to taste when eaten fresh because of their harshness, but they are very useful to make jams or jellies and especially the exquisite flesh of quince, among which the famous "codonyat" Valencia. All these preparations are accompanied by sugar, so they are highly caloric and must be taken into account or if slimming is obese.
Moreover, they are very astringent, so it will be useful to stop diarrhea, although they have to help those suffering from constipation.
They are also very rich in vitamin C and pectin is soothing the stomach, which is very suitable for combat gastritis. If you like, you can boil the seeds with water until a jelly with astringent skin care, treat the symptoms of sore throat or inflammation of the eyes.
The quince was cultivated for the first time in the Caucasus region adjacent to the nearby Caspian Sea and Black Sea. It first appears documented in 600 BC and appears to have been cultivated prior to apples between 200 and 100 BC.
* Related information: How to make quince paste?


More information on other fruits of winter.
This article was endorsed by
Elisenda Carballido
- Dietitian nutritionist. Postgraduate in Phytotherapy and master in Nutrition and Metabolism.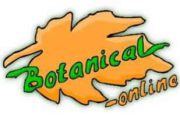 Written by
Editorial
Botanical-online team in charge of content writing