HOW TO GROW THYME (Thymus vulgaris)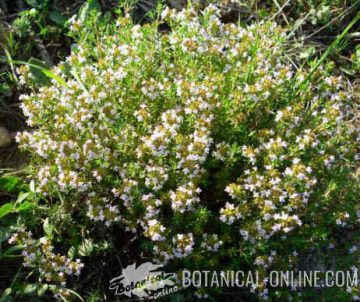 Thyme characteristics
Aromatic perennial bush of the labiatae family up to 30 cm high.
Stems woody and greyish.
Leaves lanceolate or ovate, whole, petiolate, with the underside covered with whitish hair and with the contour turned inwards.
Pink and white flowers, with upper lip corolla low and the bottom divided into three lobes. Calyx reddish and velvety.
It blooms from the end of winter, especially in spring and in October in a second flowering.
Where does thyme grow?
It can be found in the wild at the edges of dry roads and weeds.

Thyme irrigation
Very moderate watering. Do not leave the soil soaked or very wet so it does not rot. The ground must be provided with a good drainage so that the water does not become stagnant.
Uses of thyme
Thyme is cultivated primarily as a medicinal and aromatic plant. In gardening, it is used as a plant for borders in gardens of Mediterranean type and in dry floral compositions.
*See: Medicinal uses of thyme / Food properties of thyme / Thyme home remedies
Thyme weather requirements
Thyme is a plant that grows in climates of the Mediterranean type. Therefore, you need sunny and warm springs and summers with lots of sun to produce many flowers from the fall on. However, in winter it is a plant that is able to withstand frost very well.
It should be planted in a place well exposed to sunlight.

How can thyme be reproduced?
Thyme can be reproduced in the following ways:
By seeds prepared in a seedbed during late winter or early spring. Transplant in autumn when the plant has reached 10 cm.
By hard cuttings in spring, taken from an adult plant from march to April
By division of the bush from October to March.
By planting plants produced in greenhouses.
It is a plant that does not require great care, just remove the herbs and prune in spring.
What type of soil and fertilizer does thyme need?
If you plant in a pot, use a poor soil, composed of a mixture of sand compost and garden soil in equal parts.
If you plant directly in the garden, add sand to the ground. Provide very good drainage.
Thyme diseases and plagues
Northern root-knot nematode (Meloidogyne hapla)


More information on thyme
This article was endorsed by
Julián Masats
- Technical agricultural engineer specialized in horticulture and gardening.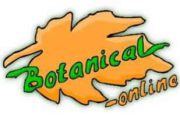 Written by
Editorial
Botanical-online team in charge of content writing