MEDICINAL PROPERTIES OF GUANABANA
What is guanabana? (Annona muricata)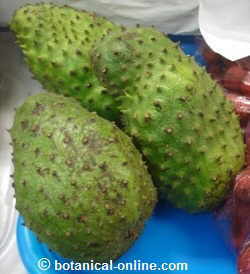 Soursop, guanabana or graviola is a tropical fruit native to Central America.
It is producted by the tree Annona muricata, which belongs to the same family as cherimoya, (Annonaceae) but its size is much larger and can reach 40 cm. in diameter and weigh between 2 and 5 kg
Benefits of guanabana?
Soursop is astringent, digestive and cholagogue. It fights infection, constipation, hypertension and obesity.
Recently, a study showed that soursop is 10,000 times more effective against cancer than a drug used to treat it.
Its potential role in cancer treatment has aroused interest in this plant.
Soursop medicinal preparations can be toxic. (leaves infusions, extracts, seeds preparations, etc). Do not take them without the consent of your doctor.
Properties of guanabana
NATURAL REMEDIES WITH SOURSOP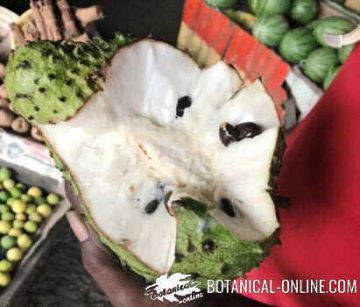 Guanabana against cancer
Seeds, leaves and, to a lesser extent, the fruits of soursop, have more than 50 different acetogenins, some components with properties against different types of cancer: skin cancer, pancreas, prostate and breast cancer.
These substances are cytotoxic and anti-tumor, able to kill cancer cells.
Its mechanism of action is related to the inhibition of complex I, which blocks the nutrition of cancer cells causing them to die.
Guanabana in traditional medicine
Guanabana has been used for different purposes. For example:
Guanabana restores liver function which contributes to the reduction of cholesterol and triglyceride levels to normal.
The fruit is rich in potassium, a mineral involved in the good condition of the nerves, heart and muscles. Its gamma amino butyric content (GABA) makes it a very suitable fruit in the diet for hypertension.

Remedies with soursop leaf extract are contraindicated for people with low blood pressure (hypotension) or taking medication for hypertension.
Immature fruits are very astringent and are used as a remedy for dysentery and diarrhea.
Malaria is a disease caused by parasites microorganisms of the genus Plasmodium spp. The soursop leaf extract, rich in acetogenins, can stop this type of infection by blocking cell respiration of these organisms. (Blocks breathing mitocontrial complex I).

Herpes simplex: Acetogenins also have antiviral activity. They are able to fight herpes simplex. This is currently a field of study which is tending to use them as future antiherpetic drugs.
*Related information:
– Nutritional benefits of guanabana


More information on guanabana.
This article was endorsed by
Montserrat Enrich
- Journalist specializing in edible wild plants and plant uses.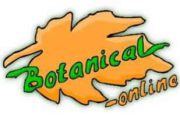 Written by
Editorial
Botanical-online team in charge of content writing