Colorectal cancer
What is colon cancer?
Colon cancer or colorectal cancer is a type of tumor that occurs in the colon and rectum
What is the colon?
The colon is part of the large intestine. The large intestine is located in the lower abdomen.
It is the final part of the digestive tract. It measures more than a meter and a half and does not reach 10 cm in width.
It is divided into several distinct areas, from right to left, blind, ascending colon, transverse colon, descending colon, sigmoid colon and rectum, followed by the anus.
Functions of the colon
The colon is responsible for the storage and evacuation of feces, but also to maintain the hydroelectric balance of our body.
It deals with the reabsorption of water and chloride, potassium and sodium ions.
Types of colon cancer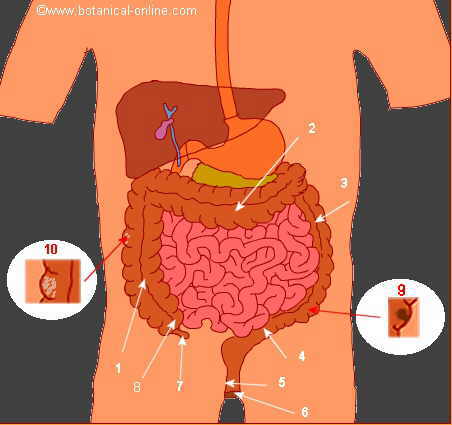 Image of the digestive system with parts of the large intestine:
1- Ascending colon
2- Transverse colon
3- Descending colon
4- Sigmoid colon
5- Rectum
6- Anus
7- Appendix
8- Cecum
9- Detail of a polyp in the descending colon
10- Detail of a cancer in the ascending colon
Tumors of a benign nature, which become malignant more frequently, are adenomatous polyps and villous adenoma.
Nearly 90% of the colon tumors are adenomatous polyp type, although luckily they have a slow growth.
About 5% of colon tumors are villous adenoma, whose growth is dangerously accelerated.
There are other types of colon cancer, but they are less frequent, such as multiple juvenile polyposis (Juvenile polyposis syndrome) and Peutz-Jeghers syndrome (hamartomas type) or familial adenomatous polyposis and Gardner's syndrome (adenomas type).
Why does colon cancer occur?
The most common causes of colon cancer are:
*Unknown, linked to:
How does colon cancer manifest itself?
Colon cancer usually does not have symptoms in the early stages of development. Among the most characteristic symptoms are the following:
Asymptomatic (in early stages).

Constipation or diarrhea.

Weightloss.

Blood in the stool.
* Related information:
– Colon cancer diet in case or surgery
– Colon cancer vegetarian menu

More information on colon cancer.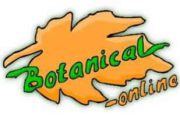 Written by
Editorial
Botanical-online team in charge of content writing