Herbal supplements for  genital herpes and herpes zoster
Vitamins, minerals and other supplements for herpes
Supplements for the natural treatment of herpes may help conventional treatments. A quick implementation of supplements when noticing the first symptoms of of herpes is the best guarantee to obtain good results.
These components help reduce the unpleasant symptoms, help prevent secondary infections, encourage healing and, in some cases, delay or prevent the emergence of new outbreaks of herpes.
It is advised to consult your doctor about the application of these natural products, especially if you are taking another medication, if the lesions spread to the face or eyes, if secondary infections arise in damaged areas, or there is no improvement in a week or a week and a half.
Main herbal supplements for herpes
The most used supplements for herpes are:
– Echinacea supplements for herpes: Echinacea is a herb with powerful antiviral and immune powers. Taken as a supplement along with goldenseal (Hydrastis canadensis), it helps reinforce the defenses, heals wounds and protects them from infection.
(The usual daily intake is 800 mg of echinacea supplement divided into 4 doses and 500 mg of daily goldenseal supplement also divided in 4 doses) (More information about the properties of Echinacea)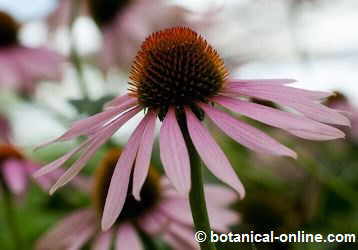 Echinacea flower
– Lysine supplements for herpes: Lysine is an amino acid whose properties seem effective to stop the spread of Herpes simplex I. Its use can be internal, in the form of capsules, and externally applied as a powder on wounds, in which case it supports their healing in less time and delays the onset of the outbreak (In internal use the usual dose is 3000 mg per day split into 3 doses, between meals, at times of peak of the disease, that's to say, when the blisters appear.
– Aloe supplements for herpes: Aloe gel or aloe cream is obtained by squeezing aloe leaves. It has antibiotic properties that may help the wounds not to become infected and, especially, to reduce the affected relieving pain, burning or itching (apply aloe gel or aloe juice on the affected area) (More information about the properties of Aloe vera)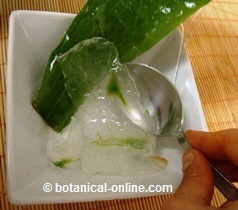 Aloe vera gel
– Capsaicin for herpes: Capsaicin is an extract from cayenne pepper or hot pepper. It is topically applied to reduce pain. It has been established that the application of capsaicin over the area of herpes relieves itching or burning in most cases.
It is especially indicated to reduce the unpleasant effects of postherpetic neuralgia, a burning sensation or chronic pain that herpes zoster produces in some patients after the visible symptoms of this disease are gone (Capsaicin can be bought in pharmacies or health stores. Avoid contact with eyes or mucous membranes. Do not use on genitals or in open wounds or sores, scars or only when there is itching or burning pain without injury or crusts)
– Vanilla for herpes (Vanilla planifolia) Because of catechins, vanilla can help in case of herpes (Use vanilla as a food spice)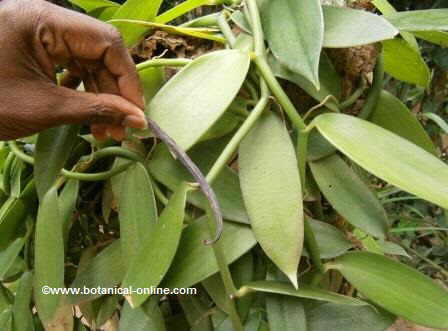 Vanilla pod, the part of the plant used as spice.
Vitamins and minerals for herpes
The most used vitamins and minerals for herpes are:
– Vitamin C with flavonoids for herpes: Both posses ideal antioxidant properties to neutralize free radicals that are often the cause of organic weakness that is exploited by herpes viruses to sprout. (At the beginning of the disease take 3000 mg of vitamin C with flavonoids daily split into 3 doses)
– Calcium, magnesium and vitamin D for herpes: They protect nerves and helps wounds heal easily. (The usual daily dose during 7 days is 1500 mg of calcium, 750 magnesium and 400 IU of vitamin D divided into 3 doses)
– Vitamin A for herpes: Vitamin A is another great antioxidant with antibacterial properties. It helps taking care of the good condition of the skin. It can be used internally in the form of capsules or tablets or externally in the form of ointment with which to anoint the wounds caused by herpes, which will help to heal them. (The usual daily intake for this disease is 50,000 IU, divided into two doses combined with a dose of 600 mg of selenium)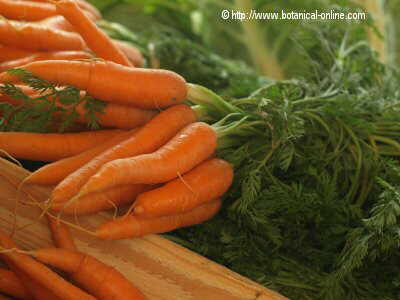 Carrots are rich in vitamin A
Creams for herpes
– Lemon balm cream for herpes: Balm or lemon balm (Melissa officinalis) is one of the most powerful antiviral herbs. It can be used as a poultice to treat itching or burning that herpes produces. Thus, besides being a calming plant, it promotes healing and prevents wounds from becoming infected.
Even more comfortable than the application of poultices made with infusions of the dried plant, is the application of lemon balm cream made with this herb on the affected area 3 to 4 times daily. (Lemon balm cream can be bought in pharmacies or health stores)

More information about herpes and its natural treatment.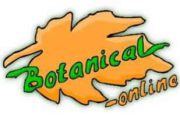 Written by
Editorial
Botanical-online team in charge of content writing