How to prevent prostate cancer
WHAT IS GOOD TO PREVENT PROSTATE CANCER?
Medical Control at least 1 time per year
To prevent prostate cancer is essential to attend regular medical checkups at least once a year, especially after age 60.
Medical tests have no risks to health and may aid in early diagnosis of the disease, which will multiply the effectiveness of treatment.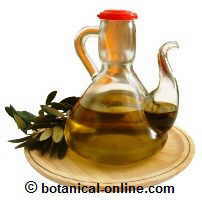 Vitamin E inhibits the growth of prostate cancer. Olive oil is rich in this vitamin
Follow a suitable diet for prostate cancer
Diet is an important risk factor in the development of cancer. An estimated 35 % of cancer deaths are related to the type of food.
Although diet is a complex factor to investigate, some general guidelines for preventing cancer through diet is:
– A high fiber diet protects against cancer.
– Some substances of plant foods inhibit the growth or proliferation of prostate cancer: vitamin C, vitamin E, soy, carotenes, lycopene, selenium and green tea catechins.
Further information: Food for prostate cancer.
Physical exercise to prevent cancer
Physical exercise is a protective factor against certain types of cancer, especially colon cancer, and possibly breast, rectum, prostate and ovary cancers.
For example, it has been shown that walking an hour a day improves the overall health of the body.
Get rid of risk factors for prostate cancer
This type of cancer can have no modifiable factors, such as those dependent on genetics, but their appearance may also depend on other preventable factors such as obesity .
Eating too many calories and rich-fat diets are two factors related to a higher incidence of prostate cancer.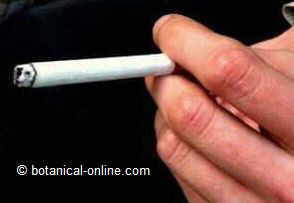 Smoking increases the risk of prostate (and lung) cancer
Do not smoke to prevent cancer
Smoking increases the risk of prostate cancer, in addition to being closely related to the development of other types of cancer (lung, mouth, pharynx, larynx, esophagus, pancreas, and urinary bladder).
It also aggravates heart disease and respiratory problems – cough, hoarseness, bronchitis, Chronic obstructive pulmonary disease (COPD) –
Other factors
Some scientific evidence suggests that consumption of alcohol may increase the risk of prostate cancer.
Researchers at the Cancer Center of Cincinnati (USA) have noted a possible link between bisphenol A (BPA for short) and this type of cancer. Bisphenol A is a substance found in plastics, which are sometimes used in food and beverage containers. Its presence in certain amounts in the urine may be a marker to indicate the presence of a malignant or benign tumor – prostate -.
It is unclear whether undertaking vasectomy or using finasteride (medicine for alopecia) may be related to the occurrence of this cancer.

More information on prostate cancer.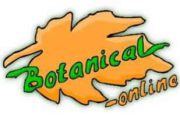 Written by
Editorial
Botanical-online team in charge of content writing