HOW TO PREVENT URTICARIA
Tips to prevent hives
Among the main tips to prevent the onset of urticaria or lessen its symptoms, we can include include the following:
– Avoid allergens : We know that most often urticaria occurs as an allergic reaction to something ingested, inhaled or kept in contact with the skin. Avoiding these products is essential to prevent any further episodes of urticaria.
In many cases urticaria is usually triggered by the ingestion of certain foods. Learning which foods we should eat and which ones we should discard is the best way to avoid it. (More about "Diet for hives" in the listing above)
– Avoid stressful situations: Stress is, besides food, one of the determining factors in the occurrence of attacks of urticaria. It is vital to adopt a new way of thinking, a different attitude towards life to remove stress-causing situations.
– Avoid excessive heat or cold: Sometimes excessive heat or cold produces urticaria in some people. Similar effects can derive from violent extreme exercise or physical exertion because they increase body heat and sweating. In this case, you must try to keep the body cool and avoid these situations.
– Avoid tight clothing: Close-fitting garments can cause a worsening of the symptoms of hives, so avoid them if you usually suffer from urticaria. Contact with certain fabrics or beads can trigger the same reactions.
– Avoid hot baths: Hot baths worsen the condition of people with hives.
– Refresh the affected areas: This usually tends to decrease itching and reduce swelling, except when urticaria comes from a reaction against cold. In this case, applying cold is contraindicated because it makes symptoms worse. (More information about this subject on " Urticaria cure" on the listing above)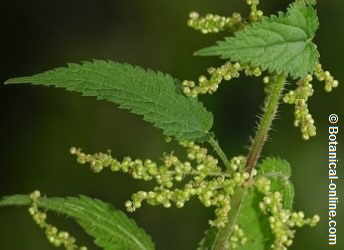 Nettle plant
– Moisturize your skin: Urticaria manifests more virulent with people who have dry skin. It is important, therefore, keeping the skin well hydrated with a moisturizer. Natural creams for dry skin are especially recommended.
– Use antihistamines: We can use antihistamines to prevent the development of hives if we assume that we have come into contact with any element that could trigger it. We can also use them to lessen their symptoms.
– Use "natural antihistamines" They are natural treatments with similar properties to conventional antihistamines. Natural antihistamines will help prevent or lessen the symptoms of urticaria. They can be an alternative to chemical antihistamines with the advantage of not having so many side effects. (More information about this topic in the "Natural treatment of urticaria".

More information about urticaria and its natural treatment.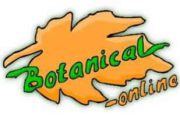 Written by
Editorial
Botanical-online team in charge of content writing