Properties of agrimony flower essence
What is agromony flower essence for?
Who is agrimony for?
Agrimony is one of the 38 flowers of Dr Bach. Numerous descriptions have been given for this flower, but they all have the same common ground: This is a flower that is used to treat people who have an inner torment hidden beneath a layer of external happiness. Specially aimed to those people who "laugh outside and cries inside."
Agrimony for people with mood swings
They are people, apparently jovial and with good humor, but their humor often feigns sadness inside. These are people who prefer to hide, showing a false joy that hides his inner pain, visible only to themselves. They do not like arguments or disputes, preferring to avoid or even giving up a lot.
Agrimony for people who drink
Some people usually drink heavily or use drugs often to support their anguish and suffering.
The use of agrimony flower will help them to face their difficulties, so far evaded by an outer layer of false happiness. They will also become more integrated with other people.
What the experts say about agrimony?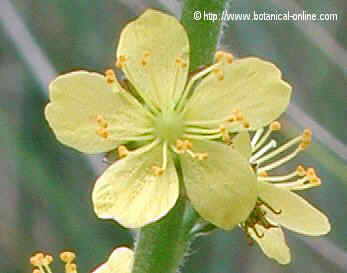 A detail of agrimony flower
Many authors talk about them. For example:
" Agrimony people " tend to hide their internal problems to the environment. They appear to be calm and carefree, fun and living artists. One could envy their way of facing life (and many do) unless there was theater, behind which hides a mental pain of the most diverse nature. They are like the clown who tells jokes, while her face shows a deadly seriousness "
Healing Bach flowers, Götz Blome
"For merry, joyful people, pranksters who love peace and are anxious to avoid arguments or disputes to which they will accept by giving up many things. Although they generally have troubles and are tormented, restless and anxious, both physically and mentally, they hide behind their jokes and pranks, so they are highly valued in their circles of friends.
They often tend to over-indulgence in alcohol and drugs to encourage themselves and help themselves to merrily cope with their concerns. "
Bach Flowers, Eduardo Londner

More information on agrimony in the listing above
Other interesting articles
This material is for informational purposes only. In case of doubt, consult the doctor.
"Botanical" is not responsible for damages caused by self-medication.