Chickpeas vegetarian salad
How to prepare a chickpeas salad
CHICKPEA SALAD RECIPE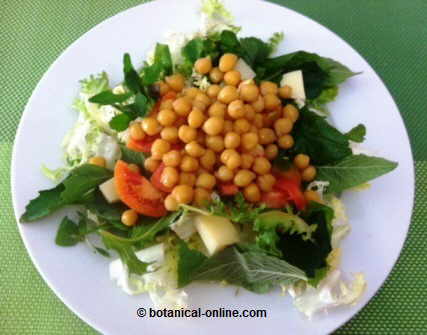 Chickpeas salad
Ingredients for 4
Preparation
Clean and cut the onion and tomato in pieces.

Pour into a bowl the cooked chickpeas, the tomatoes and the chopped onion. Stir all the ingredients.

Chop the eggs into slices and garnish the salad by placing a layer of sliced olives on top, forming a circle around the edges of the bowl.

How to serve it?
Serve it cool or at room temperature. Serve the vinaigrette sauce for seasoning as desired. Eat it as a first course for lunch.

More recipes and information on chickpeas in the listing above.
Other interesting articles
This material is for informational purposes only. In case of doubt, consult the doctor.
"Botanical" is not responsible for damages caused by self-medication.