Chamaerops humilis
Saw palmetto
PHOTOS OF SAW PALMETTO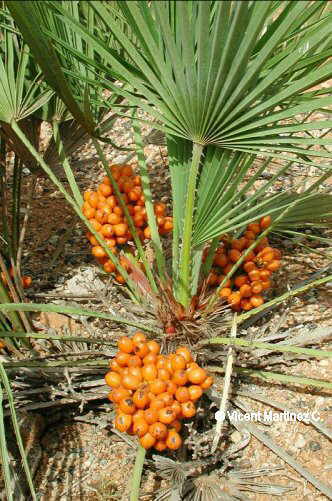 General aspect of saw almetto with the fruits (Chamaerops humilis)
Chamaerops humilis L. (Saw palmetto)

Perennial tree of the Palm family - palmaceae - up to 6 m. Erect stems, greyish. full of fibre. Hand-shaped leaves, formed by till 15 folded pieces, with thorny stalk. Yellow flowers. Spherical or ovoid fruits, yellow-red, till 1,5 cm in diameter, edible (dates) In Mediterranean dry and rocky places.
More information about plants in the listing above.
Other interesting articles
This material is for informational purposes only. In case of doubt, consult the doctor.
"Botanical" is not responsible for damages caused by self-medication.