Cirsium vulgare (Savi) Ten
Spear thistle
PHOTOS OF SPEAR THISTLE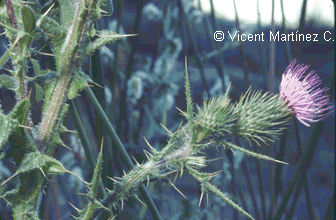 Photo of Cirsium vulgare
Cirsium vulgare (Savi) Ten - (Spear thistle)
Prickly biennial herb of the daisy family -compositae- till 150 cm tall. Stems with spiky discontinuous wings. Leaves deeply divided, lobes ending with a spine and a solitary spear- shaped lobed at the end. Flower-heads till 5 cm long, purple, with tomentous bracts, ending with a spine. In dry calcareous meadows and by the side of the paths.
More information about plants in the listing above.
Other interesting articles
This material is for informational purposes only. In case of doubt, consult the doctor.
"Botanical" is not responsible for damages caused by self-medication.