Galanthus nivalis L.
Snowdrop
PHOTOS OF SNOWDROP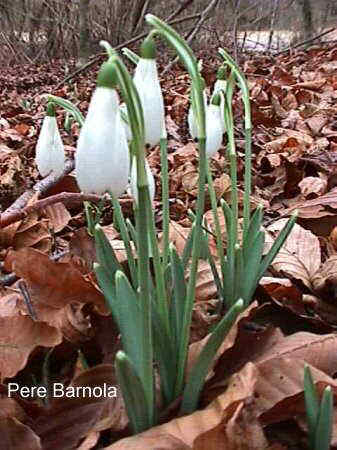 Photo of Galanthus nivalis L.
Galanthus nivalis L. - (Snowdrop)
Bulbous plant of the Daffodil family -Amaryllidaceae-. Linear leaves, light green. Flowers from 2 to 3 cm, with 3 perianthic pieces of inmaculate white, ovate from 14 to 17 mm. Three internal pieces aproximately half the lengh of the external ones, bearing a green spot in the apex, scarious margin. In woods and clearings of beech woods between 700 and 1400 m.
More information about plants in the listing above.
Other interesting articles
This material is for informational purposes only. In case of doubt, consult the doctor.
"Botanical" is not responsible for damages caused by self-medication.